The first time I encountered him was a chance meeting in Secondlife. We had a chat together and then we met again the next day, and the next. Initially I got a tad nerved because it seemed that everytime I logged in, he would be there, private messaging me. To the point of me getting nervous everytime I logged in. I didnt know him that well, and gotten a bit jaded of internet relationships.
And then my computer died. I wasnt able to log in Secondlife anymore and had to borrow my brother's laptop for internet connection. Unfortunately, his laptop isnt capable or running the graphics intensive 3D world. I had to be content with just hanging out in the Secondlife Forums to get my updates and chat with other secondlifers there.
And a few days later, he was there in the forums. I was so surprised to see him there. But slowly I got to know him better and saw his caring character, the way that he is always very perceptive of people and how concerned he is towards his friends and the way that he thought. I was very drawn to it.
And in time, we got closer and closer and became a couple. We were inseperable. We talked to each other every day via msn or sms'ed each other every now and then.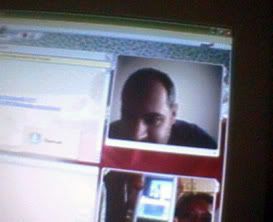 Months passed by being in bliss. And then we wondered how it was if we met each other in real life. Would we still have a connection? Would we still like each other after seeing our physical selves? We had to know.
He helped to get me a ticket in July and against all sanity and logic, I decided to go. I smsed my close friends one day before the flight. Some were shocked but they were all excited and happy for me and I couldnt help but feel touched.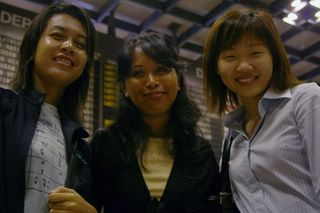 Juli, Geri and my brother Nazry was there to see me off. I was feeling butterflies in my tummy by then. What am I doing? This is crazy! I cant believe I'm doing this! Geri calmed me down in saying that everything will be alright once I get in the plane. I still couldnt help but feel nervewrecked. Nazry told me that he was jealous, you're going there and I'm stuck here in boring Singapore.
I reached the gates and waved to my friends feeling the butterflies and yet excited at the adventure in front of me at the same time.
—
Couldnt sleep in the plane at all. With the turbulence, it made the plane shake alot. Being unaccustomed to long flights I couldnt adjust myself to rest. It didnt do well to my already nervous mind with many questions. I looked around at the many people who were sitting docile at their chairs.
Fish or Chicken?
Uh? (woken up from my thoughts)
Fish or Chicken for your dinner?
Uhm … Do you have vegetarian?
No, but let me check for you.
(walks towards the cabin)
I'm sorry, we dont have any
Then I dont want to eat.
Are you sure? Come try the fish at least
Ok ok
I stared at the tv screen in front of me and tried to rest as best as I could.
—
After a long 12 hour flight. I got up dazed and bleary at the Charles Degaulle Airport in Paris. Decided to wash my face and brush my teeth for a little bit before heading off to the transit flight to Rome.
And before I knew it. I was late for the transit flight with less than 10 minutes to go. I didnt realise that the Airport was so huge. I spent a long time trying to look for the place. Everyone spoke French (the only french I knew was what came out of perfume bottles)
Luckily, the man at the airport gave me a replacement ticket to board the next flight in about an hours time. I tried to sms him with my mobile but that didnt work since my phone couldnt work with global roaming. I tried to use the payphones and I peered helplessly at the french speaking phones.

Lost in France
The place was crowded with people and I observed the people walking. People smoking around the airport terminal and felt how chilly it was there. So many people of different nationalities were there walking around. It was interesting to look around.
At length I took the transit flight and arrived in Rome two hours later. I tried to look for my luggage but couldnt find it! I approached the man at the counter.
Scusi. My bag. Where? (Shows luggage ticket)
Parlare Italiano?
Huh?
(some words I couldnt catch)
He pointed me towards the lost and found and I thanked him and went there. Speaking in slow english, I described my bag, its contents and gave my contact details when it would be found.
By then, I was feeling quite haphazard since it was nearly 1pm when I was supposed to reach there at 9.30am on the original flight. Would he still be there? Would he leave thinking that I would not arrive?
I received a sms from him and it said
🙁
Dont leave, please dont leave yet, I'm right here, I thought to myself
I exited the area to enter the arrival hall and walked around to look for him. And that is when I saw him. He looked so much more warmer, and real. And as our eyes crossed, we instantly recognized each other. We walked up to each other and hugged each other dearly and time just seemed to stop.