Isn't this adorable?
Looks like Secondlife has been hit by the tiny critter rage! That's me on the left and my little squirrel friend on the right there is Mickey. Later on, I asked Cartcart to accompany me in getting tiny avatars. And we dressed ourselves up as bunnies. Aren't we cute?
I've always liked 3D worlds. Ever since I've explored my first 3D world, I have been active since. I've been a penguin in Worlds, being very impressed by a Greek state in Activeworlds, loving the community in Cybertown and being enthralled by There. It's wonderful to be able to craft whatever that you wanted.
So naturally, I gave Secondlife a try after being in Cybertown for about two years. At first log in, I was overwhelmed by its superb graphics. I could control a beautifully crafted avatar which I could customise. The avatars there were unique as it could move around, and shifts about and fidgets when left standing too long. It even breathes!
Not forgetting the environment that can be explored. Breathtaking. The sunrise, sunsets and starry nights are as lovely as the real thing.
I started out looking like this the first few days in Secondlife. I tried to make her look similar to me. Her hair, her facial features, her skin. She looks prettier than me I think 😛
You could even customise the clothes here, which is fantastic. I made the bear tee shirt myself just a few days after I joined.
There are always many interesting people to meet and talk to. I'd almost always meet nice people on my travels.
That's Krysss on our deck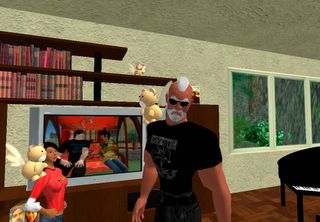 That's Duo in the living room
Genevieve, Princessia, me and Cartcart
Lyle and me at a coffee house
Cartcart and me – Partners in crime
Cart acquired a beautiful plot of land facing the sea. I really love it there, as it was so peaceful and beautiful – a perfect place to live at. I found myself wishing that we were staying there together in real life. We spend some weeks building our house and was very proud of it when it was nearly complete.
There's always things that could be done in Secondlife and that's exciting to me. There's always much adventures and hopefully, more to come up 🙂
Secondlife is celebrating its 2nd anniversary and is giving out FREE accounts. Sign up! Don't even think twice about it! Sign up! You'll love it there. And you could refer me, rinaz bijoux if you like. Hope to see you there 🙂
You can sign up here. Website is 18 and above only.