The first words he said to me :
Hi
Hi
So … How are you?
I'm fine, very fine.
And I smiled and looked at him, so amazed that we finally met. I told him about my long flight, and of my lost luggage. And confidently he went to the enquiry counter and spoke to the lady there and reassured me that it would be ok.
We got in his car. I looked at the driver seat being on the left and how he drove at the right lane and overtook at the left lane. I took in the sights in front of me from the highway to the fields that we passed by.
I cant help but to stare at him as he was driving. Seeing his face and how he talked. English wasn't his native language so he spoke slowly and asked me every now and then, "What's the correct phrase for … " and "Is that right?"
I noticed that Roman buildings were full of graffiti and asked him about it. He tells me that it was common to have one of those. Doesn't anyone clean them up? Some try to repaint it, but in time, it will be drawn on again and people just gave up trying.
We reached the place and he hugged me tightly and we had our first kiss. It was so lovely to feel his lips. So warm, and inviting and delicious. I liked it.
He let me rest and soon after, he received a call from his mobile. My luggage was here! We took it up and I showed him some of the things that he wanted but couldn't get in Rome.
And here we have …
Tada! Baba's Curry Powder.
Tada! Fresh Curry Leaves.
Tada! Love Seeds of the Orient.
And a small gift I got him while on my photoshoot trip to Bugis.
He wanted to cook curry. After seeing on the webcam, at the curry he tried to cook previously, I reckoned that he would like to try something more authentic. I doubted that Rome had these types of items.
So how do you cook this? Oh the leaves are to be placed in the end of the cooking stage? Oh those love seeds. I would love to be a child and play with these. I could plant these in the Villa Pamphili Park and in time, people will enjoy the trees.
He let me rest for some while before we headed up to a little place called Gianicolo. We walked to a 'punch and judy' box with children watching the show and then we had ice cream and talked. It was lovely, the hazelnut ice cream that I had. Smooth and creamy …. Mmm…
He then showed me the beautiful sights overlooking the different landmarks that Rome was famous for. By then I was feeling chilly, even though it was August and was supposed to be summer. It was so nice to cuddle up to him. I liked it. 🙂
I woke up to take a shower and saw this: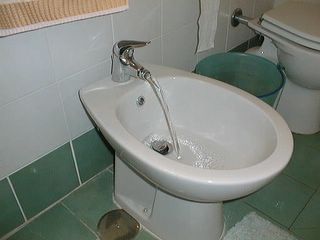 What's that?
That's a bidet – that's where you shower babies in.
Oh … that makes sense
The rest of the days was spent travelling around Rome. On Sunday, he took me to see the weekend flea market. We first went to the train terminal to get tickets at one of the vendors there. These tickets will allow us to travel via Train, Tram and buses. I looked at the different sights in front of me. Many dark skinned women in skirts passed by chatting in a foreign language, wearing trinkets on their bodies.
Those are gypsies, he said. People who roam around selling items as their means. Most dont have any fixed jobs or education.
We took the tram to go to Via Trastrevere and reached Porta Portese to see the flea market. What a sight! There were so many stalls that the eye could see and what ever that you wanted, you could get here. I saw some stalls full of clothing, some full of toiletries, some full of shoes. There were even some stalls selling antique items and furniture.
But what really caught my attention was the diversity of people there. There were African men selling shoes and bags, Chinese people selling electrical items and what made it all amazing was how fluently they spoke in Italian. I was mightily impressed!
We stopped by to look at some of the lovely paintings that were being displayed there. There were even some Asian Trinkets like Jade necklaces and Oriental Hair combs.
Psst … I could find something like this back home so easily. I was surprised to see something that was so common being displayed and regarded so highly. It was strange even.
The beautiful streets of Trastrevere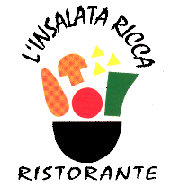 We then had lunch at L'insalata Ricca which literally means "Rich Salads" I had an egg salad while he had Gnocchi and we had Sparkling Mineral Water. I tried his delicious potato dumpling in tomato sauce and then I was shocked to see the amount of salad and the size of my plate when it arrived.
I can't finish this! Argh!
(laughing) Dont worry, no one's going to scold you for not finishing it
Yeah, but in Asian tradition, if you don't finish your food, it will cry.
Uh? (teasing) Aww I see those corn crying. See these olives, I can see the tears
He then ordered Scamorza which was a type of cow cheese which was baked. I tried a little. It was dry-ish, smoky,rubbery, but still tasty. I was still struggling with my salad. I finally admit to defeat. I left the restaurant feeling extremely bloated.
Marina, wait a while, I'd like to use the water fountain.
I gave it a try, the water was cold and refreshing. There are many water fountains like these all over the town of Rome.
We walked by the ancient ruins of Largo Argentina with a cat sanctuary and I try to imagine what life was like during those times. We reached the Altare Della Patria and I was amazed by the sheer size of the monument. It was super huge. I wondered how such a huge monument was created in times when forklifts weren't created yet.
There was a soldier display there. He tells me that like the London Soldiers, they aren't supposed to talk or move about while they are on duty. They are supposed to guard the fire that has been constantly burning to remember the fallen soldiers. He added cheekily that the soldiers are adding in extra time for the passing over, just to play for the tourists.
We went in to see the different architectural displays and then walked by the fori imperiali area and I soaked in the wonderful sights in front of me. So many people relaxing and strolling around in the lovely afternoon sun. He was complaining about the heat though and tried to hide in the shadows whenever he can. I chuckled at that. Weakling! This isn't hot. It's so comfortable. And I proceeded to dance in the golden sunshiny afternoon.
Man playing classical songs on his guitar at the fori imperiali


A lovely quiet church we stopped by at


Yes, traffic is always like this. Scary.
In the evening, we went to a restaurant called the L'antica Roma and we had a pizza each. I liked the place, beautiful ambiance and beautiful people were around, friends chatting and relaxing in the cool evening. We ordered our meals from the interestingly bald and burly waiter. He ordered pizza with cherry tomatoes and I had a mushroom pizza. Again, it was so huge that by the time I tried to finish half of the pizza, as delicious as it was, I was bursting to the seams. Argh! More crying food!
Again, we had sparkling mineral water and I noticed that practically every table had them. It was bottled and packed and served like wine. How classy. I was beginning to appreciate the lovely taste of the water. It was slightly effervescent without being too bubbly like Perrier and yummy, quite different from Evian.
Dessert? Tiramisu maybe?
How about Gelato with Fragola?
Always room for dessert 😛
And we chatted joked and had fun as I enjoyed the night air. I was really enjoying his company and loved spending time together with him. As we walked hand in hand, it felt so natural and comfortable, like we knew each other for years and years. I was looking forward to days to come. Oh how beautiful the day was!