Ask any Italian about pasta and you'd see how passionate they become. And there are so many different types of Pasta, its quite mind boggling. Like this Pasta Al Limone. Have you ever had lemon in your pasta before?
The first few times when I cooked pasta, though it tastes fine to me, Cart would then give it a try. The gentleman that he is, he never complains but gently shares with me tips on how to make it better. So I'm sharing some of the few crucial points with you 🙂
Here are a few basics when making pasta.
1. Dont overcook the pasta.
Italians immediately delete points on a pasta if it is not al dente. Al dente basically means that it is cooked just right with a bite to it and pasta which is cooked too long will be soft and loses this bite.
To cook the pasta, you take a pot of water and add some salt. Wait for it to boil before adding in the pasta. While there are many different types of pasta, most pasta packs would have a recommended cooking time.

Like this Vermicelli cooks in 11 minutes
But if there isnt, you could take a piece and bite on it to see if it is cooked or not. And then serve it immediately with your pasta sauce. Never leave your cooked pasta by itself for too long. It'll get soggy.
And do not throw your cooked pasta on the wall. It'll be a hassle to clean up afterwards.
2. Pasta sauce basics
After observing how Cart cooks his pasta, while there are many variants in the sauce, there are basically two different bases. And these starts with the soffritto.
A) The first soffritto is in a pan with olive oil. You stir fry some chopped onion, carrot and celery.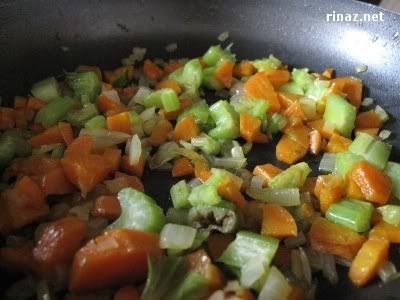 Once it softens, add your bottled tomato sauce or fresh cut tomatoes and some salt for taste. Never use tomato ketchup because it has additives and it changes the taste. Tomato sauce should only contain tomatoes.
When its cooked, you scoop the sauce on to your pasta, add some parmiggiano cheese on top and mix well.
With this basic step, you could add some ground meat while frying the soffritto and you'll end up with Pasta al Ragu. And you could even use this sauce to make lasagna!
B) The second soffritto is to fry some garlic with a little bit more olive oil. When the garlic is brown and the oil has been infused, you add the cooked pasta in and chopped parsley on top. Mix well and you get Aglio Oglio!
Or if you like, while frying the soffritto, you could add some chilli and add tomato sauce for Arrabbiata!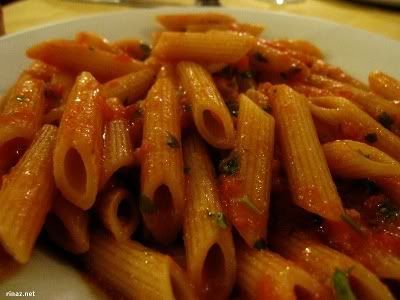 Penne Arrabbiata. Death by tray.
Seafood works very well too for this soffritto. You could add salmon, clams, mixed seafood, prawns … what ever you like 
But just remember never add cheese for the second soffritto because the flavours clash together.
Buon Appetito 🙂
I think that's all for now in the basics of cooking pasta. If you have any other tips to share, or have any questions please feel free to comment below 🙂