What is this peculiar feeling that I'm feeling. Feels like my heart is beating faster than usual today and my stomach sinking, full of butterflies … Is it a forecasting of what things are to come?
Spent the weekend actually searching for "rinaz" for google. I've been using this nick for as long as I could remember and thought that it would be interesting to see the things that I could find with it.
First up, I found my gallery from renderosity during my cybertown days. I remember feeling very proud of my creations as even though it wasn't that superb, I've put in my heart and soul in them and was very proud of them! I'm still proud of my 3D right now.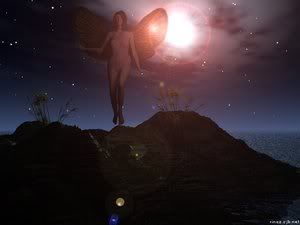 A faerie's hope has always been one of my favourites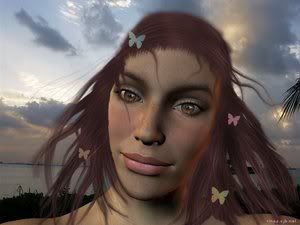 I actually enjoyed drawing her hair strand by strand. 🙂
Google search also brings me to the Singapore Digital Photography meetup group. I wasn't too active in that group though, it didn't seem to be very active and there hasn't been any activities there even when I started out.
I found myself at Caedes.net and I was amazed as I haven't been to that website for ages and ages. I used to go there for different wallpapers under the recommendation of an ex-student from the commercial school that I was teaching previously and I quite like the website.
I see my name on Vampirefreaks.com. A friend, I made from secondlife. Lovely girl, but a little scary sometimes …
I found my moblog account! Wow! My sony imagestation account and the desktop project where anyone from diverse countries sends a screenshot of their desktop. Heck, I even see my name in the Jennifer Lopez song review
How amazing!
The most amazing one would definitely be a website that I made on fortunecity.com, way back in 2001 (Be forewarned that it had LOADS of popups)
But I look back at the writing style and can't help to wonder would a 20 year old Marina, recognize herself 5 years in the future?
Interesting quotations that I didn't even realise that I wrote.
"Ramsden said: "You can never have your cake and eat it at the same time". I don't even have a cake right now, just a dry biscuit"
"If life wasn't filled with failure then people would take things for granted. Then how would anyone learn?"
Monday, the start of my freedom of the clutches of employment. I find myself just as busy as the same. Went down to school for a while in the afternoon to pass something to Jane, the admin there. Chatted a while to Linda and then left to Jurong East to register in the employment agencies there. I'm not sure how effective the work there is, having tried the same thing when I was 20 or so with no response, but I thought I'd try it anyways.
Went to night class after that and had Amir, a security guard at Monks Hill Secondary, who I befriended to take me home. As soon as I reached home, mum pounced at me with all the documents from the company – the letter of confirmation, the letter of termination, and others. She talked animatedly about how she had a talk with her lawyer friend and described that I had a very solid case against the company. All you need now is a copy of your attendance and your bank statements.
Tuesday. There's no reason why I should lay idle at home. Had a ceiling to floor spring cleaning of my room. My windows are sparkling clean now, no dust bunnies in the room anywhere! I even cleaned the ceiling fan. I was amazed to see the amount of dust in my room. Urgh…
Called up Linda to have a copy of my attendance. I didn't fill it up to that 28th May though, so I'm not sure if Linda would fill it all the way then. But I did go to school everyday. Went to night class again and when I was done, I found Amir waiting for me at the carpark. I'm starting to get nervous. I don't think I want to hitch a ride with him any more. I don't feel comfortable. I just think of him as a friend, that's all.
I'm going to start my photography lessons today, and I'm so looking forward to it. I would love to learn those wonderful techniques professional photographers use for their models.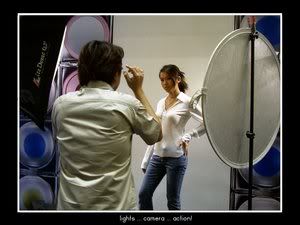 I snapped this about 2 years ago while Estee Lauder was hosting a makeover and I enjoyed myself then. I love seeing people looking beautiful and radiate their self confidence after their makeover. Its uplifting to me.
So looking forward to tonight!