Geri, Juli and I went to coverlooks to have a complimentary makeover done on us after getting these vouchers from my photography classes with Fais.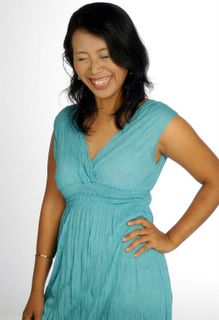 My fave shot from the session
We went to the studio at Stamford House at about 2pm and got ourselves ready.
Geri : Darn, I don't know what to choose. Do you think this pink top is alright? What did you bring?
Me : Looks fine, to me. I brought my turquoise dress and my white dress.
Juli : I didn't even bring anything!
The makeup artist did our makeup and I tried to make small talk with the chinese lady that was applying the makeup for me.
Makeup artist : Wah! So pretty! Pretty!
Me : Uh thanks. I dont think I have the time to do this every day.
M.A : So nice!
Me : How long does it take for you to wear makeup?
M.A : So pretty! So pretty!
Me : Uh … thanks
M.A : Look up
Me : Ok
M.A : Look down
Me : Ok
M.A : Look up! Oh so pretty!
I don't think she is local, but she was quite nice anyways, with the limited conversation that we had. She was quite discerning, and applied my makeup carefully and gently. Well I liked it. Geri, on the other hand, I saw was done in no time at all. So fast? Her make up artist must have been in a hurry.
I heard a lot of excited screaming and chattering while the make-up artist was just about the complete doing my hair. I peered back into the mirror. Wow, I look like a tai-tai. (rich man's wife) I liked it though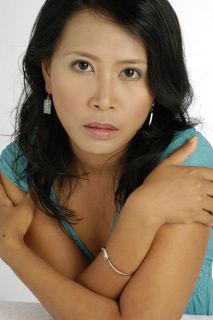 We then went in the studio room to get our shots taken and I recognized the photographer. It was Ragu, whom I met during one of my photography lesson with Fais during one of the stints he did over at the Radin Mas photoshoot.
Ragu : Hey you! You look familliar!
Me : Yup! I know you! We met at Radin Mas CC.
Ragu : You were wearing glasses that time. You look so different.
He took snapshots of Geri first and I saw her laughing as Ragu, the photographer was instructing her on how to pose.
Geri : What? This cowboy hat? Are you kidding me?
Ragu : Eyes! Eyes! Open your eyes!
It was funny seeing them play-fighting together and then it was my turn. Actually it was nothing I wasn't familiar with, since I was usually the one who took the pictures. Except it's a different situation now, with me in front of the camera, instead of the one being the one taking the pictures.
Ragu : Put your hand here, turn your head a little, chin down. Ok *snap*
Ragu : Big smile! Hahahaha!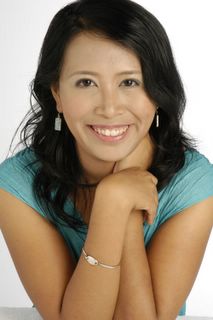 See, marina can look pretty too. But can she earn big bucks?
It was cool for me though, being in a real studio, so I get to know some tricks on studio photography, the set up and the layout. I would love for to have my own studio. A lot of investment for me though. But I want to give it a try because I seriously see myself doing this for a long time. Well I like it, and enjoy it. Taking pictures of other people, that is.
And then it was Juli's turn, with her choice of outfit from the wardrobe that Coverlooks provided. I thought she looked really pretty, with her facial features. And we teased each other with our choice of outfits
Juli : I look like a (censored)
Geri : Oh! Let your (censored) out! Embrace it!
Juli : 500 baht!
Me : You look nice what. But I don't fancy the top so much.

Look into my eyes … and give me all your money
We had loads of fun. Geri says that it was nice to do a "girl thing" like this once in a while and I really didn't expect to have so much fun. I think this must be the same way that Fazillah was feeling during her photoshoot.

Something about marina! Not quite the same pose and he cut off my leg … bwahhh, but it's aright I guess.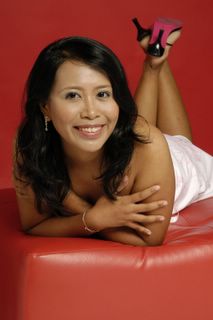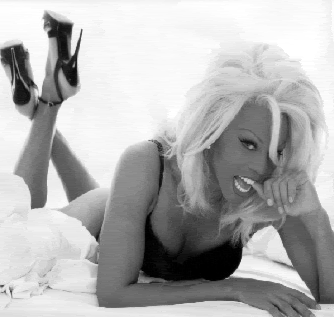 Rupaul pose
Tooting heck, I should just quit my job and become a model or an air stewardess or something similarly brainless. I think I'll go find the SIA air stewardess application.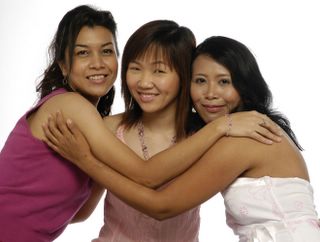 United colours of benneton advertisement
After the studio photography session, we sat down to pick and choose the pictures that we wanted to keep. And from there, I knew how these places make money. Wow, a picture costs 10 dollars each! Pretty steep eh?
Sure, we get free two 4R pictures, but we don't get to choose them. And it was very tempting to get a lot of our shots because it turned out well and it seemed such a shame not to get any. I just wanted to spend 50 dollars but in the end, I chose about 15 pictures.

Smile … just smile … No stress …

I was thinking, what the heck? Paying so much when I can do it myself? I pitied all the people who didn't come over to my photography sessions. You could have FREE makeover and FREE pictures then. Gosh. If someone else gave me the chance, I would say YES in a heartbeat.
I still have 9 vouchers left for the coverlooks complimentary makeover if anyone wants one. It's fun, really. But be prepared to shell out a bit of money if you want to keep some pictures that you like. So just be strong to resist the temptation. Email me for a voucher.

10 dollars a shot? Crazy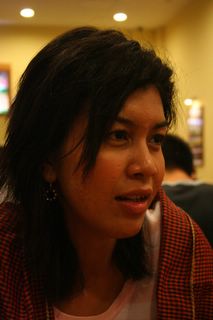 I think we can do a better job than them.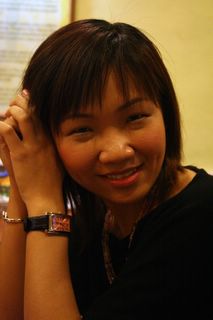 Yeah! And I can be your model!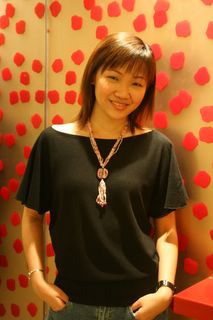 See … *poses*
Anyway, the three of us were discussing over dinner afterwards about our experience and how to improve on it. Juli didn't like the make-up style and I thought the photography style could be improved a little. We'll do a little outdoor model shot somewhere in the future with natural light settings. We might do it at Jurong Lake.
I think that'll be fun with the lake, and the trees. Very lovely.
Oh well, better end here for the moment. I had a lovely time though, was a lot of fun and laughs and giggles. Can't wait to see Juli's and Geri's pictures when they are done 🙂