I took these picture during last Wednesday's photo-shoot session :
Oi! I said pay attention! Don't clown around Marina!
Isn't Zila super adorable? Zila agreed to be my model for Wednesday and her pics turned out pretty good. She wasn't used to modelling, but was very curious, Fais, my photography instructor needed to direct her how to pose, and how to walk and then, she was groomed! Zila the model!
However, Zila was extremely hyperactive, and was jumping everywhere, and made a lot of funny faces and that seemed to make Fais a little giddy. *chuckles* It was too funny seeing the professional photographer at work, with the overly bubbly Zila.
I learnt how to do runway photo-shoot for today where there will be a moving subject walking back and forth. It wasn't as simple since scientifically, when there is a specific source of light and a moving object, the lighting will effect how illuminated a person looks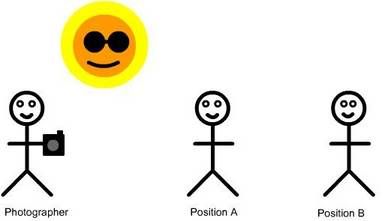 Thus, I'd have to change my aperture and I had to change it doubly fast since the subject is walking and wont wait for me, not like studio photography.
That's where I found out where my awesome Canon EOS 350D has a minor fault to it. I had to press a button as well as press the slider at the same time to change the aperture so that meant that I had to waste time, putting the camera down to fiddle with it. Unlike the Nikon model where you could just use the slider to change the aperture immediately. :
You should just change your camera, Fais teased me. Yeah sure, and I made a face just like Zila.
Anyway, if there are anyone still keen, there are still the last two spots open for a free photo-shoot. Email me, makawaru(nospam)@gmail.com
When : 3rd August 2005
Where : Radin Mas Community Center (Tiong Bahru Mrt Station)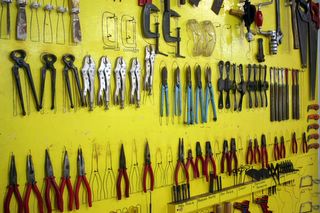 The Design and Technical room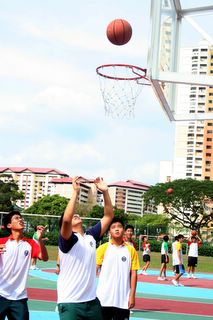 Interesting week at work lately, teachers has been asking me to take photographs of them, their lessons, the school. Looks like they are taking advantage of the fact that I have an awesome 350D .. *chuckles* I don't mind taking the pictures, honest. I just feel that I'm more of the Audio/Video/ crew more than an IT support.
I learnt how to shoot a video this week! That was pretty cool. A teacher, asked me to shoot a video of her lesson so that she could review the way she taught to improve herself. It was a hassle trying to find the (one and only) video camera in the school, trying to find Hi-8 tapes in the school (they didn't provide it!)and finding the battery charger (yikes!) since the battery was all drained.
I learnt how to transfer the video from the cam to the camera, and then convert the video to a vcd format. I'm so proud of myself 🙂 I think I'll try to find my Adobe Premier book from which I tried to learn a few years back. I could do loads of fun things with video, I'm sure.
And just in time for the school video awards too. Awesome! I remember Saiful, my ex colleage talking to me about collaborating to make a school video since he specialised in music and I could do IT and was describing some of the scenes and shots. We're not working together any more, but the dream is still alive, I could do something about that.
Singapore's national day is coming up soon, beautiful lights are put out right outside the streets where I would usually walk home from my train ride.
Brandon, Sunny, Nasir and Steve – Did they all plan to wear black tonight?

V is for peace!
I just came back from supper at Newton Circus with Rosdee, Diane and Christine after our night-class. I wouldn't normally eat there with the super expensive price tag, but it was not everyday that we had a chat together.
We had fried kangkong and satay to eat communally and we were enjoying our supper when all of a sudden, Christine asked me "So, when are you getting married Marina?" "You ARE serious with him aren't you? Have you made plans?" I didn't know how to answer her. Rosdee tried to come to my rescue by asking me the same question in a more polite way, and that was when Christine replied back "I'm a forward person, I don't believe in hiding things and I care about people and just want to know about them better"
She must have seen my face cringing up at the question and then she replied "I respect your privacy though" and we quickly found another topic to talk about.
And that was when the topic was diverted to religion. How Rosdee's eyes were all lighted up and he began his speech.
Bla Bla Bla bla
Uh huh? Yeah
Bla bla bla bla bla! Hoo hee hoo hah! Huargh hee hah!
Hmm … Oklah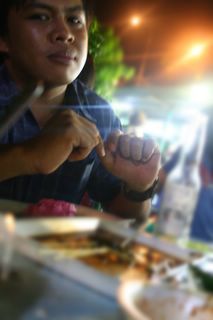 Are you making fun of me, Marina?
Wouldn't dream of it. Peace! *laughs*
They are nice people. Diane tells me about her dream to become a lawyer, Rosdee wants a better life and so does Christine. I hope we all do good next year for our A level examinations. God willing. 🙂
Oh my goodness. Less than one week to go. I'm so excited! And I'm not even prepared!