He fought valiantly. After days struggling through, try to fight from being taken over. They tried to stop him, making him restart his battle again and again. Unfortunately, he got wounded …and tired … He finally lost his fight. He exploded and with a dramatic cloud of smoke, passed away …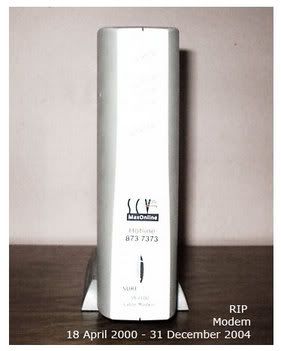 Rest well, my sweet modem. May you rest in peace in technoheaven up high above you… You will be remembered.
And that was the start of a horrible day. After losing my modem, I decided to quickly get ready to go to the staff meeting at school. That was about 9am. Enough time for me to get on the bus and reach there. By then, it started raining. Armed with my trusty umbrella and my sweater and my backpack with my fried modem and other artilleries, I headed to the bus stop.
I reached the school and to my horror, it was empty! I called up a colleague. Isnt there a meeting in school right now? What? They changed the location? No, they didnt tell me … I'll be there. So I rushed over in the rain to try to get to the place which I was not familliar with. As I sat in the bus I kept thinking, is this the right way? This doesnt look right. And after a while, I finally figured that I was actually lost.
Ookay then, skip that, I might as well just skip the meeting anyways, by then, it was just about 11am. No point going to the meeting anymore. I decided to go to Buona Vista to have them check up my modem by the tech there. He checked it, and fiddled with it and finally said "Yup, this is spoiled alright, you need to get a new modem" I looked at him incredulously …"well, cant I get it here?" And he pointed to the 3 different locations to purchase. I shook my head at what a time waster that was.
While waiting for yet another bus, I had a phone call from my supervisor … "why werent you at the meeting today, did you know how angry the principal was? Come for meeting today later at 4" And that phone call really made me upset. Coupled with the rain, and the cold, I was really feeling sorry for myself.
I then rushed to head to town area where it was crowded with people wanting to purchase the starhub mobile phones. I tried my best to be patient, stuck my mp3 player in my ears and fiddled around with my sweater. And when I finally got served, I realise that I had to fork out some moolah and my heart just sank.
I think I spent over 600 dollars on computer parts alone these past two months … things which I could use to spend on other things. Its so unnessary … heh.
Anyhow, I rushed home and threw everything on the floor, set up my new modem listlessly and read my email for abit. I had an email from cartcart, him feeling bad, and so making me feel concerned too.
My mother must have camed in and saw the expression on my face. I was very quiet and just shook my head when she asked me to have lunch. "There must be something going on, I can tell by the look on your face" I find myself bursting out what happened …and we were both quiet for a while.
She told me to have patience and that everything that happens, has a reason to it. I couldnt hear her, like I was underwater …
Happy bleeping new year indeed.
It was 3pm now, time to go off to the train to Boon Keng for my meeting. I met another fellow colleague and we had a heart to heart discussion about the direction and goals of the company. The problems and solutions … I have to say that it felt a little more uplifting then, I think the one hour train ride, thinking of nothing helped alot.
Well, to put a long story short, I have to find ways to enbetter myself and rise above everything else.
Anyhow, reached home at night time, after calling julie to confirm if she wanted to go out to Great World City, and after not being able to reach her, decided to go home straightaway. She told me later as I was nearly at my stop that she fell asleep waiting for my meeting to be over. I think by then we both didnt want to go out anyways. It was still raining, and it was much too cold and dreary to go partying anyways. I wasnt in the party mood either.
So I celebrated the way I would rather wanted to, chatted with friends online and wished each other a safe, happy and prosperious and enriching new year …
Well, happy new year dear friends. Life can be bleh but with people like you makes it more tolerable 🙂