After months of preparation, honing our skills, we are now all up and ready for our venture. I think what spurred it up was the fact that Diyanna, one of the girls who modelled for my photo-shoot recommended me to one of her friends.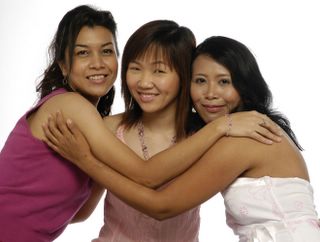 I quickly thought about it. Juli and I already made our pact to do a makeover venture for a long while now. Initially, we were both apprehensive because both of us were more of a hobbyist rather than a professional. But now that Juli's already a certified Makeup Artist by Cosmoprof and I've completed my photography course from Coverlooks. So there shouldn't be anything stopping us. We should start our dream as soonest we can.
Actually, how the idea for a makeover venture started casually over dinner after Hema, Juli and I purchased our tickets for our Thailand trip vacation. I don't remember what was said, but we all decided that we wanted to do something together.

I don't want to do something that's always related to school!
Lets do something we like to do.
Well I like photography, and you do great make-up.
Hahaha .. Maybe we could do makeovers for people.
Yeah and we'll call our business "HeJuMa Makeovers"
Ewwww!!!
I first noticed how good Juli was with makeup when she did a makeover for a mutual friend. One fine day, she offered to do a makeover for me while we were going out for a day in town. She dabbed a little here, and there. Put a little colour here and there and when she was done, I looked in the mirror and I really liked what I saw. Every stroke she did complemented my face. And it looked so natural and nice. There are some people who slap on their makeup too thickly and some people whose make-up just didn't look right. Juli's style is perfect.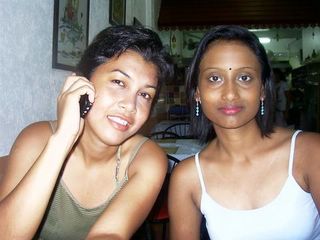 The beautiful Juli on the phone
The fact that she has an impeccable taste in style and fashion makes it all the more sense that she'd be a perfect makeup artist.
On a whim, I thought of Geri to be our PR. I noticed how she interacts with people, as well as her experiences in the sector. She was very good at promoting something that she is really confident in.
I remember how confident she was while showing me some courses for Mindworks: A design school that she was working with for some while. All her promises about the institution was true. Nothing hidden and I thought that was a great quality.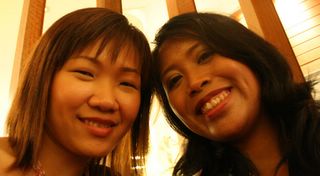 I have full confidence of our combined abilities. I know we'll do great.
So now we're open for business! Come on and contact us, you know you want to 😉