Usually around this time, when I was living with my parent's, we would be busy preparing for Hari Raya, the end of our month long fast. And the house would be in a chaotic state – we'd be hanging the curtains, baking cakes, tidying up the house, prepping for lunch and dinner for the humongous amount of relatives that will be arriving later.

My big fat greek wedding pales in comparison to the amount of MY relatives
I've always hated all this fuss. All these chores are extremely tiring and to be honest, quite unecessary. Nevertheless, I enjoy being surrounded by relatives and friends, despite how eccentric many of them are … you know, there will always be an uncle who loves to blast his karaoke set, an aunt who would chatter non stop, the emo cousin and such.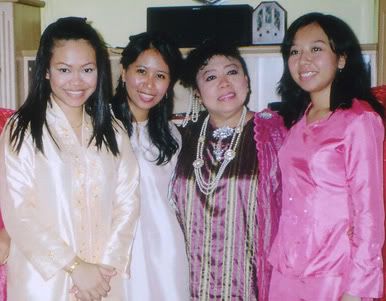 For fun, I'll put a picture of me and my non emo cousins and aunt back in 2004
And so, I was thinking of baking some cookies during the weekend, and planned to make Nasi Lemak for the guests to eat when they arrive later. After all, if they can't take the heat of curry or even ayam masak merah, I should be fine with Nasi Lemak right? It's the mildest (and relatively easy to make) Malay food that I can think of.
And then I found out that all of my Muslim friends aren't in Rome, and even my family in laws won't be able to make it since it's not a public holiday in Rome and they had to go work.
And while trying to gather the ingredients, I started to get emo and mind started to go into a monologue :
"Why bother with the cooking? No one is coming over anyway? There is no one to cook for"
And I suddenly felt so lonely and started to feel depressed.
After skyping my family and friends, I feel better now though.
Sidenote : Just wanted to clarify why I prefer inviting Muslim friends over for the first day is because we've all went through the gruelling 30 day fasting together. Of course everyone else are welcome too. We've invited a couple of friends over already 🙂