As a member of Cozycot, I cant help but to notice that the regular announcements of events for the members to participate. These events range from health, to beauty to fitness.
I was curious to see how these events went, hence I clicked to RSVP one of the event – the grand opening of Anthony Hair Boutique. I thought that it would be interesting to see the various hair demonstrations.
I met the owner of the boutique and celebrity hairdresser, Anthony Tang and was impressed by his repertoire, his team has won the international hair dresser competition for 5 consecutive year.
But nothing beats seeing the master crafting his work in front of you. He did 5 hairstyles in 5 – 10 minutes each!

Grand Finale from rinaz on Vimeo.
I am duly floored.
—
Claudia informed me of a Majorlica makeover and I couldnt help but to say yes! I love makeovers 🙂
The makeover was held at Takashimaya. Unfortunately, when I reached Orchard, it was raining heavily. When I arrived, I was rather unglamorously soaked that Nadnut and Claudia looked a little shocked at my disposition.
But no matter.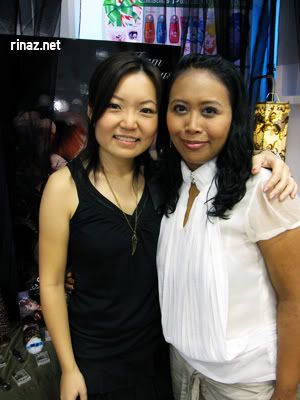 I met Sisheido representative, Pamela, and under her meticulous care, did my makeover for me.
This is me before :
And this is after the makeover :
I think we look really really good. Nadnut looks sexeh vavavoom! Claudia looks extremely lovely. And I've never seen my eyes has ever looked that large before. A little scary, no? 😛
Sidenote : Congratulations to the Singapore team for winning the first Brand's Blogger Mental Challenge 🙂
Sidenote 2 : Any ladies interested in participating in a makeup course for about $15 – $25? Only thing is, we need a minimum group of 10 to start.