I started to swim at about 9 years old – it was part of an after school enrichment course I suppose. But all I can remember was how much fun I had. Swimming came naturally to me. And I used to swim so much that people thought that I was an Indian for a while.
My best friend E1 and I would head to the Jurong Town Swimming Complex. It was interesting as I remember that it had a very tall diving board and that edge of the pool was about 4 meters deep.

Picture by Good Morning Yesterday
As kids we'd do silly things like rolling off the edge and into the pool. Impulsively, I pushed him down the pool and ran away. Later, he looked at me all bewildered, and told me that he hit a couple of swimmers below. I was such a naughty kid.
The pool has since been converted into a hockey rink, much to my horror. So we had to travel a little more to go to the one in Jurong East. Come to think about it, even the stadium next to the pool is closed to the public. My mum can't do her morning jogs there anymore.
</grandfather stories>
Anyway, I miss going swimming. Although I balk at the thought of paying about 10 euro just to swim at a public pool here in Rome, perhaps going for a course at one could be cheaper.
And so I dragged Cart to take me to a couple in the neighbourhood. After searching and inquiring, I signed myself up for aquagym at the pool which is within walking distance to my house. If you're wondering how much it costs there – it costs a yearly 30 euro sign up and 11.50 euro for two times a week. Oh and it is also compulsory to show them a medical certificate from a doctor.
The Piscina Communale Roma 12 isn't a classy looking place, but it isn't a bad place either. It's an indoor pool, the place is clean and the pool is heated.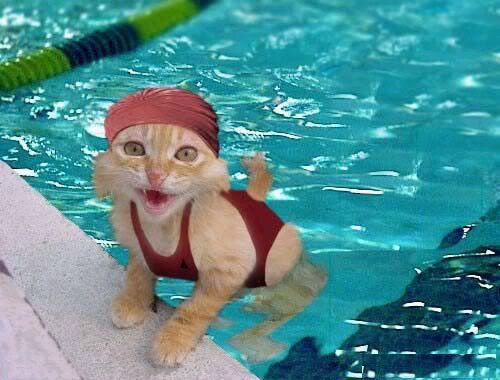 I can't take pictures in the pool, so here is a swimming kitty instead
And so I went to my first aquagym class yesterday, I took my pass at the segreteria and then went through the ladies to change. There is a connecting door to the pool and then I handed my pass to the caretaker there.
I met a couple of ladies there and we started our aquagym proper. It was a lot of fun. It's kind of like regular gym, but only in water. Every movement feels slowed down and less rigorous. But it was still a challenging workout anyway.
After our our course, I headed off the to shower to clean up. But when I reached there, I was very puzzled. I see shower heads … but where are the doors? Where are the curtains? Huh?
And that's when I saw a lady showering … naked … She looked so noncholant. Like it was natural for her. And then two of the ladies from aquagym started to strip off their swimming costumes while all the time, chatting animatedly to each other.
I.. Uhm… Ehm… Uh…
My heart just sank momentarily … I don't want to show my naked self! I felt so panicky and so out of place that I just jumped in and jumped out of the shower and hurriedly found a corner to dry myself and put on my regular clothes and got the heck out of there.
I know. I know. It's just me. Most Europeans wouldn't bat an eye to nudity. There are even topless women on Italian television. But nevertheless, I feel so shy uncovering myself in the open …