I was a completely well adjusted young adult till recently I've gone completely bonkers!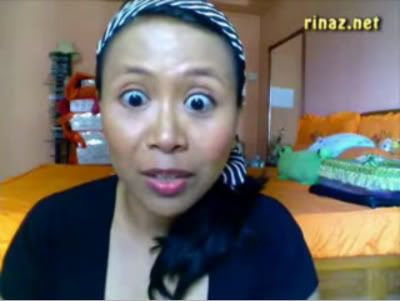 It all started innocently with Wishbone was recommending some cosmetics samples from Pure Luxe. I did some research on it, there were many good comments about it – especially this Rainbow Eyeshadow Tutorial, which impressed me.
I picked up the courage to order just a few items online. And this was what came in the mailbox some while after :
Later on, Sylvia posted about some links about free minerals sample kits which intrigued me. I ordered a sample kit from Everyday Minerals.
After using it for a while, I found out that I enjoyed using them – my skin took it well and I liked how natural it looked on me. And before I knew it, I started to click on the purchase button. And look at what came to me some weeks later.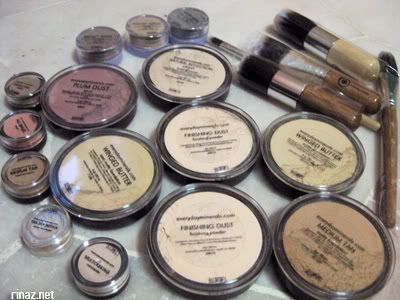 Goodness!
And on top of that, I've also discovered LiveJournal sprees! I recently  got fascinated by this very colourful 88 Eye-shadow Palette and decided to get one for myself.
The day I got the palette, even though I was not skilled at eye make up, I had a blast of a time trying out different eye looks. It was so exciting to me. I felt like a little girl given with a lot of colours to play with!
And for some reason, I was itching to try something new. I decided that I wanted a neutral palette this time. However, the one at Coastal Scents were a tad too expensive when I calculated the dollar conversion as well as the shipping charges.
It was only when I stumbled upon a seller from ebay. Based in Hong Kong, she was said to be the manufacturer of the palette. So I'm getting it direct!
This is my new 28 neutral eye-shadow palette. Isn't this absolutely gorgeous? I love playing with all of my new colours! It's so much fun!
At this point of time, some of my loves would be Pureluxe's Nymph Blush as well as the Nymph-o-mania lip colour for its healthy, natural, yet sexeh shade 🙂
Unfortunately now, I have so much mekap now that my side table could hardly contain all of them that its spilling to the floor! Definitely no more cosmetics for me for now.
At least not until my next obsession.