Hi everyone 🙂
I'm happy to announce that Marina's Bloggariffic has won 2 awards in the ping.sg most entertaining post and also Waggener-Edstrom Post of the Year 2008.
I won for myself two trophies, a customized engraved glass by Markchoon.com, a Border's voucher, $200 shopping voucher at Takashimaya and a dinner for two. It feels so much like an advanced birthday present 🙂
But in all honesty, I'm really very surprised and shocked and did not expect this win at all.  All the while at the event, I was happily cheering for all the other winners that when my name was announced, I was dumbfounded! In fact, I felt so flabbergasted that I don't even remember what I said last Saturday during the winning speech.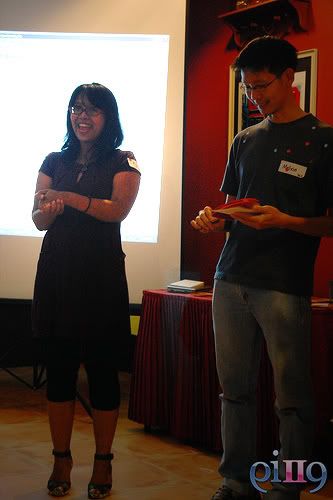 Regardless, I feel very blessed that there are people who enjoyed my postings and heartily thank everyone who voted for me. It's because of your support that I have the drive to be the give out my best in blogging. Thank you so much!
Without further adieu, here is the ping lipdub project video!

Ping Lipdub Project from rinaz on Vimeo
What do you think of it?
Links to other bloggers :