Even in her 50's, my mum is an exercise buff. Since being interested in exercise some years back, she is now currently participating in various activites, such as line dancing, kebaya-robics and conducting an aerobics class herself!
Now that she's already completed her Basic Exercise Course, she is currently persuing her Advanced Exercise Course that will make her a qualified aerobics trainer. Wow! I really admire her determination.
That makes me reflect about myself.

This is me at 12 years old
I used to be a really skinny kid. For years, I've been pretty much that way. I'd enjoy my daily run in the Jurong Lake Park.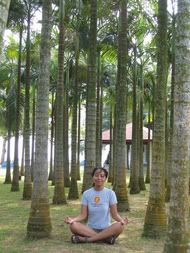 This is me at about 22 years old
But since I've started working, I've really neglected myself. I don't exercise at all and it shows. Clothes that were loose some years back, are really very snug now. Some of which, were deemed as inappropriate by my mum that she actually threw it away!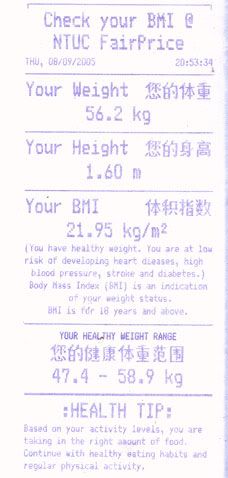 My weight in 2005. I'm 65kg now.
Sometimes I look at myself and I wonder how I got so large. (Ok, so I binge eat a lot) Back in school, I'd never go more than 50 kilograms. Nowadays, I'd be lucky if I dont tip the 65kg mark. Lets face it, I'm almost overweight.

My arms are as large as Brennan's thighs
I'm more or less fine with the way that I look actually. In fact, I actually like my voluptiousness. Women should not berate themselves for not being skinny enough. A woman's self worth should not be measured by slimness of her waist.
But the truth is, it does get depressing when trying to buy new clothes, finding that you need several size larger than what you normally used to wear.
It is even worse now that I feel more lethargic than have ever felt before. I can't do 2.4 km without gasping of air. Just climbing up the stairs will leave me panting.
Just on Monday, after having dinner with some of the ping.sg gang, I was so tired, that I dropped my scooter and almost couldn't concentrate on the road.
This is bad.
Luckily for me, I have my mum for guidance. Even my good friend Juli is asking me to join her for Hatha Yoga. At least with friends, they give you some form of motvation. Hopefully it won't be so bad after all.
Just signed up for the course at the newly opened Jurong West Sports Complex and was just astounded at how lovely the place was. I explored the building and I found the place to be as posh as a country club.
The view from the gym and the dance hall was really picturesque. In the distance, you can see bungalows and a temple, all surrounded by trees.
And I don't even have to pay that much for attending a course here as the sports complex is government funded. 12 sessions is about $76. I think that's more affordable than a commercial one.
I think I will like it here.
p.s I don't believe in diet pills and I don't intend to take it.