Oh Zuji! Oh Zuji!
Oh how you annoy me!
You promised me, my refund
In 3 weeks, you said, it shall come
But is almost a month already
And I still dont see my money
So how on earth can I go to Italy?
This is really not funny
I wish I was rich
Then I wouldnt act like such a
Till then I have this stitch
In my heart, its more than just an itch
Sigh.
I planned to go to see my dearest again for vacation in June and I've been scouring around for different places that have competitive prices.
After going to the Natas fair (where the tickets are sold out) and then Using Fare.net (they dont have tickets for the dates where I want to go) I then decided to use Zuji.
On the 27th of March, I booked a ticket with Zuji but after being acknowledged that they do not accept my KLM voucher, I quickly cancelled the booking. They still deducted money on my card anyway on Friday and I had no way to stop the transaction.
After a call from the customer service, a lady informed me that my money will arrive in about 7 – 10 days and I waited patiently even though I was pretty nerve wrecked with the increasing of ticket prices with time.
After two weeks, I called up the customer service again. They said this time that I will take 3 weeks from the date of cancellation. They even assured me that the finance department is handling the matter and then abruptly put down the phone.
To date, I still dont have my money.
And guess what?
The prices for plane tickets to Rome now is getting more and more extravagant.
I'm really not happy with the fact that:
a) Zuji couldnt be bothered to tell me the exact date when I will get my refund. If the customer service would tell me that it would take *that* long for the refund to arrive, I wouldnt have cancelled the booking. I would have stayed and wouldnt be so emotionally nerve wrecked by the whole experience.
b) That airplane prices are really going up so high. Just a few days difference could mean a difference in hundreds of dollars! Just a month ago, airfrance was just $900 compared to now which is $1400
c) That I made hasty decisions like this and this in turn effects everything. Why cant I just decide on one thing and then just be happy with it. Instead I still want to look for other alternatives.
Sigh.
I wish I was rich. Then I wouldnt have to worry about petty things like these. But I'm not. Oh gosh. After the payments for everything. I feel so dry right now.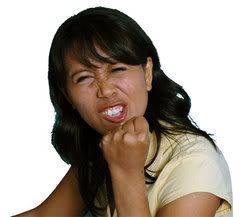 Me angry! Me want smash your face!