Wow, it looks that I've been tomorrowed for my post About the man I call my dearest. How exciting! Thanks Crunchy Green Apple for linking me up! You're such a pie 🙂
Tomorrow.sg was a website that features blogs from Singapore. Browsing through the pages, made me see that there are many many many talented and creative people in Singapore. It was amazing and I loved reading through them.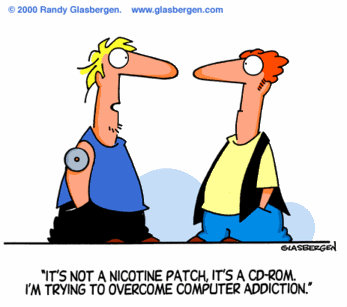 Compy is having more problems than ever. When you least expect it, working on photoshop or typing on the computer. She'll just go BEEP! And then restarts on its own and then insists that my boot disk has an error. How could it be? I've installed xp in you so many times, enough to run about 20 windows xp computers.
Clement thinks that it could be because of my motherboard having problems. Well, he's the Technical Assistant and smart at these kind of technical things. So if Clement says that it's the motherboard, guess that's the problem.
Thing is, I just changed my motherboard less than a year ago. With a new hard disk drive, a new graphics card. Those cost me half a month pay and really hurt my heart so bad.
And honestly, I don't like the fact that every few months or so, I'd have to go and spend a lump of money to fix the computer only for it to be spoiled again. And again and again.
Am I such a rough computer user? Worse than my wearing of shoes?
Worse thing is the dependancy that I have on it. I have to work with it. and my hobbies revolve around it. Don't think that it's possible to live without it even if I don't want to. We really are tied down by our computers.
The computer is like a girlfriend. You have to invest in her. And then she'll ask for more and more.
Good grief my LCD monitor isn't working well either. After a while, it'll blank out and just doesn't display anything. Isn't there anything that works around here any more?
WHY ARE YOU DOING THIS TO ME?!?! I LOVE YOU BUT I HATE YOU!! HOW COULD YOU!!! AAARRRGHHH!!!!
Ahem.
Anyways.
Spent my entire afternoon backing up my important documents. Wasn't easy trying to save over 10 gigs of data in 700mb cd-r disks. But I saw some interesting things in there that I never thought I'd see.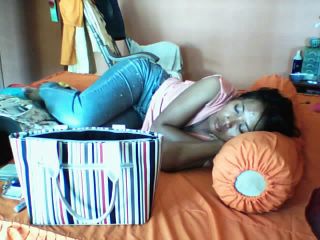 Children nowadays. Really no respect for their elders. How could Nazry take a picture of me while I'm sleeping? When I was young, we never did anything like this. We respected our elders, walked 10 kilometres to school barefooted! Carried water from the well at 5 am! Chopped wood to make breakfast!
People could edit the pictures of me for goodness sakes. I would never do anything like that.
I think that's a very malicious thing to do. Don't you?
Saw this vid clip: Thank you for loving me by Bon Jovi from Zila's blog.I like the song and the location. And it made me reminisce of the time when I at the Fontana di Trevi.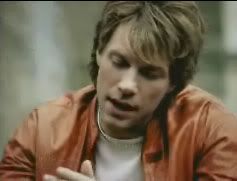 I know Bon Jovi's sister. Her name is Ann Jovi.
I've got a few gripes about the video clip though. It made it seem that there wasn't alot of people in Rome. Rome is crowded! It was hard to move around at that area with all the other tourists and buskers.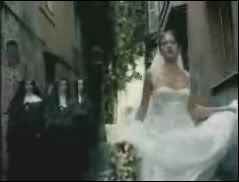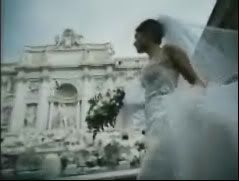 See this running bride? In real life, that'll never happen because of the massive amount of people there. I would think that the situation will be a little something like this:
Bride reads sms from the groom. "Mt me 2pm @ D trevi. We'll fnly b marrd. I lub u"
Bride : Oh my gosh, its already 1.45 pm. I'm late!
Run. Run. Run.
Groom : I hope she gets here on time. Wow so many people. (Pushes) No. I DON'T want to buy your magical flowers that will give me good luck! Go away!
Bride (finally arriving) : So tired. I hope he didn't make me run for nothing! That man, always sends me last minute sms. WAH! So many people! How on earth am I going to meet him? (screaming) Darling! Where are you?!
Groom : I'm right here!
Bride : Where? Where?
Groom : Here! (waves desparately)
Bride : Oh no! I don't see you? When will I see you again? (tears) We'll never be married.
Groom : Arrrghh!! NOOOOO!!
Inspired by Nong
Thank you for loving me (the remix)
By Marina Noordin
Susah gua nak cakap
Apa yang aku nak cakap kekadang.
Tapi takde orang kat sini.
Cuma kau dan aku
Kau tengok lampu tu?
Kunci pintu tu.
Kita tinggalkan dunia ni
(Inallillah ..EH! Salah!)
Apa yang aku ader nak bagi kau
Adalah lima perkataan ni
(pasal duit blanja dabess!)
Tima kaseyyyy
Pasal kau cinta gua
Ko jadi mataku
Bila aku rabun
Kau bagi aku CPR
Bila aku semput
Tima kaseyyy
Pasal kau cinta gua
BEB!
Tima kaseyy
Pasal kau cinta guaa…
Better stop before I ruin the song even further.
Original Lyrics here
And better end my blog here too. I'm going crazy! Crazy! CRAZY!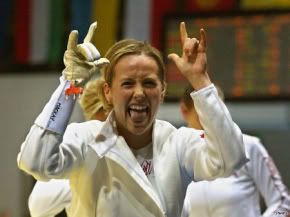 Hidup Rock!!!