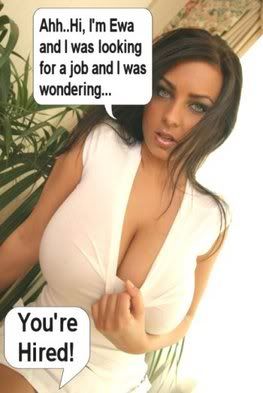 I had a lovely day yesterday and I was glad that I went out 🙂
Zila sms'ed me in the morning and asked me out for a chat and to watch a fashion show. I was a little hesitant to go out as I was a little dry, and just wanted to moan and lounge around, and be depressed at home.
But then again, I thought to myself, why not? I could take some pictures while I'm at it too. So we decided to meet up at Jurong East Mrt Station and the first thing I saw about her was that she rebonded her hair and it looked very straight. I liked it, she looked really pretty with her new hair-do. I've never seen her with her regular hair though as ever since I've seen her at work, she has always bunned it up, so I can't really compare.
We chatted all the way during the train ride to Orchard, and talked about work, her going to Australia for her vacation, and laughed about some matters. I hope we didn't annoy the people who shared our cabin. I'm impressed by her enthusiasm and her outlook in life. For someone who was just 19, there is a lot of energy about her.
The first time that I met Zila was during the office meeting. Zila was an ex colleague from the previous company that I worked for. She's really cool to me. I didn't really had a big impression of her the first time I talked to her as we didn't really have much chance to interact. I only got to know her better when she was posted to West Spring and we managed to talk more.
She's an amazing girl. I learnt that she was the captain of the National Women's Soccer association. And she sings in a band, and she also tutors primary school kids in mathematics and English. Very impressive right? I don't think I could manage all those activities. I think I'll faint trying to cope with all that.
Anyway, Zila's friend tells us that the place was located at Muhammad Sultan road and the fashion show starts at 6 pm so we decided to have lunch first.
We walked to Far East Plaza shopping complex. We managed to see this really impressive looking car. I don't know what type of car it was, but I liked it. Would be nicer if it was green.
We went up to the fourth floor and had lunch at the corner of the Cahaya foodstall and had rojak which Zila said was the best rojak that she ever had. It was good rojak . So much so that we completely forgotten about taking a picture of it.
We walked around Far East Plaza and stopped to do some window shopping along the stretch of road, and then headed down the shaw house and saw a toy fair there, while Zila was looking at some dolls, I chanced upon this adorable little girl who was playing with some toy puppies. How cute she was. I could just pick her up and give her a hug, but I feared that her parents would beat me up to a pulp seeing a stranger carrying off their daughter. Just look at her 🙂
We then went to Wheelock place as Zila wanted to see some birkenstocks shoes. I didn't quite liked the shoes there, it was much too expensive for such a simple shoe. 300 dollars for a pair of sandals … bleh. We went upstairs and saw an interesting shop that sold items completely for scrapbooks. I'd love to make a scrapbook, maybe I could do one since I've got the time now.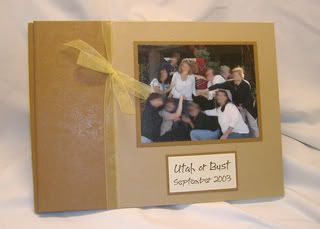 There was a photography gallery there too, sponsored by epson and I looked at the works done by Ken Seet, Derrick Lim, Geoff And and Tay Kay Chin. Looks great.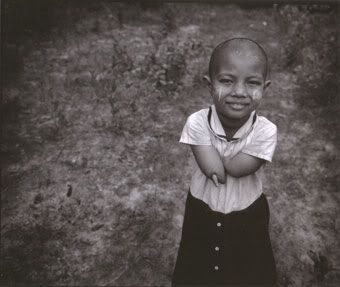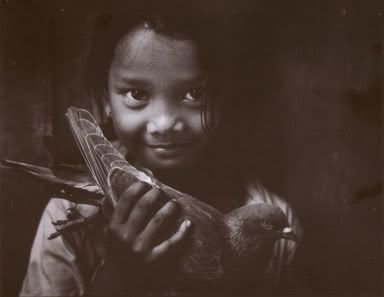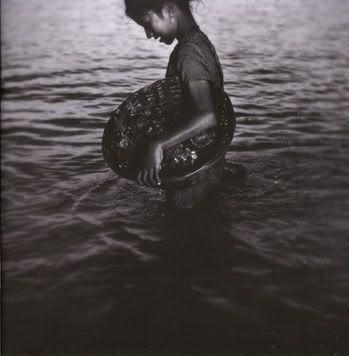 The gallery was entirely done in black and white, and somehow the monochromatic tone of the images, seem to give it more expression and feel. I liked it.
Zila and I saw a hairdressing shop and saw a little car inside it, and I thought how ingenious it was, to have a car for kids to play in while the hair dresser cut the kids's hair. Zila wondered if the hair would be loopsided or crooked that way. We went down to borders bookshop for a while to find a street-directory to find out where the location of the place was.
The city was extremely crowded, in the Saturday afternoon. We had to wiggle our way through the area.
And then we walked past the wisma atria, and crossed over to the paragon and saw Kym Ng doing a show. I'm not too sure what the show was about, since I don't watch Chinese shows, but I think it was the matchmaking show in which she plays cupid and interviews a random girl in the street to see what type of partner that she was looking for and see if she is able to fulfil the girl's requirements as I read in 8 days, a local magazine, a while back.
We walked past a makeover counter where some make-up artists made over some girls with their make up range. I was tempted to try it out too, except for the fact that I didn't fancy using nor buying the Fasio brand make up. It seemed too thick and since I had an extremely oily face, I am hesitant to try clogging looking make-up. Some of the girls looked really nice and I admired the colour of the artist's eye-shadow.
We then walked to Somerset and took the bus 123 to head to Clemenceau Avenue. By then, it was already 5.30 pm
Zila said that the location was in Double-O, which was in Mohammad Sultan Road. I asked the bus driver if it was the right stop. And he nodded his head affirmatively and pointed to the direction where we were supposed to walk to. I told Zila, if we can't trust the bus driver, who can we trust eh?
Unfortunately, we weren't sure of the area so much, so we walked to merbau road, then headed to Nanson road, that is where we had a stroll at the lovely riverside. We even had time to view the gallery at the Singapore Tyler Print Institute.
We then realised that we were quite lost and decided to retrace our steps. But then we were quite tired, and stopped by the EU Square shopping centre for a quick drink and a seat to rest our tired feet. I didn't want to drink at the shops around the area, as I knew it was going to be expensive. However we didn't even see one drink stall there! There wasn't even one fast food restaurant! However, there was a little supermarket upstairs where I bought a drink and a box of Baci Chocolates.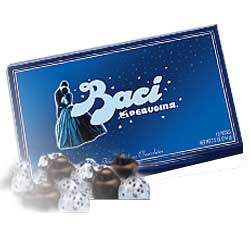 We sat down at the ledge of the corner of unity street and muhammad sultan road and then, walked past river wing. At this time, I was extremely grateful that I wasn't wearing heels. I think I would have screamed by then, it was quite tiring. I wasn't a young spritely 19 year old like Zila any-more 😛
Then we sensed that it wasn't the right direction as it seemed all wrong. We asked one of the waitress there and she pointed to the direction.
Guess what?
It was right there, beside where the ledge where we sat to have our drink and rest. Why we never noticed the building was strange to me. We peered at the Double-O entrance. It seemed empty with no one inside. By the time we were there, it was already 7 pm. How could a fashion show be an hour only? Zila called her friend up and he told her that it actually ended at 6 pm!
That annoyed Zila and me to no end. Zila said that she would do something nasty to her friend. I rubbed my hands and asked her if I could go watch too .. hehehe
Anyway, by this time, we decided to enter the courtyard anyway since we made such a huge effort trying to FIND the place and we were quite tired. Zila found her brother's friend there. We went to a Turkish/Italian restaurant and had a seat and ordered some food.
A chat with the guy revealed that the fashion show actually started at 7.30 pm! So Zila's friend was actually mistaken. ROFL! I could see that Zila had an evil thought hatching in her mind. I just wondered what it was.
I turned around in my seat and saw that the courtyard was actually next to the Singapore Repertory Theater! I can't believe we went around the area at least 3 times, back and forth just trying to find the place when it was just here. Oh. My. Goodness.
The guy also said that it wasn't actually a fashion show, but more like a dance showcase of the Mediterranean.
We ordered Pizza Margherita, which was a simple pizza made of tomatoes, cheese, basil, olive oil … no toppings since Zila and I felt a little sick of the street and junk food that we snacked on along the way. The mixed berry drink that I got, I thought was delicious. The pizza was delicious too. I'd love to show Juli and Hema and Geri here, its really lovely here. And the ambience is great too.
There was a guy in ancient Roman clothing, going around asking people if they wanted to have their pictures sketched. Zila bossed the poor guy around.
Don't draw my face too big!
I don't want my nose flared!
Make sure you draw it nicely or I'll complain to the manager!
The pictures turned out great, much to Zila's disappointment. And this was hers.
There's a frog in mine, it looked like I was trying to catch the frog … lol
Zila introduced me to Damien, a friend of hers who was working there at the time for the "fashion show". He did the sound and lighting there and three of us had a chat together. He was a likeable guy, and he seemed to like his job a lot.
Then we decided to play a fool by playing around with the free chopsticks that we had earlier
I thanked Zila for asking me out, it was really a lovely day out and I really enjoyed myself. See marina! Why must you stay and home and be depressed when its so much better to go out. 🙂
We left and said our goodbyes to each other at about 10.30 or so and really, I had a wonderful time. It was a lovely evening and day indeed. Would love to do it again 🙂