During my first few weeks in Italy, I was extremely homesick. Its a whole new world here – different culture, different people, different language. I felt really lonely. I really miss my family and friends back in Singapore.
My world was like a diablo map.
You know, when you start out, your map is all black and uncovers when you start exploring. (As a sidenote, I am really anticipating Diablo 3, it looks fantastic so far)
Hence, I tried to find a way to connect.
And the easiest way that I could think of was by searching on the internet, looking for the different events that might spark my interest like how it is in Singapore – on sites like www.sg, ping.sg and tomorrow.sg.
Unfortunately, trying to do the same thing here wasn't so easy. A quick search in google for 'events in Rome' would only lead me to mainly touristy places to see or even worse, the website has not been updated since March 2008!
And that was when I remembered stumbling into a group that focuses on expatriates living in Rome on facebook and decided to go for a couple of their events.
Its not that the people there aren't interesting. But it was just not for me. I needed to be with a smaller group, in a conducive environment to feel comfortable with.
I remembered my friend Clare (who is living overseas herself) telling me about Elaine, a lady that she knows in Italy and urged me to email to her. And from that point onwards, I started to network with a small amount of people living in Italy. This was very impressive to me at how close knitted they are – Singaporean women living overseas. And fortunately for me, a number of them had facebook accounts.
That was when I decided to start the group 'Singaporeans in Italy' on facebook. It is a small group but it was heartening to see them posting on the wall, interacting with each other. And that was when the Rome gang decided to meet up.
Our first meet was in this restaurant called Thai Inn which was owned by a Malaysian. There, I met Lynn, who has been staying in Rome for the past two years as well as Xiangwen who arrived in Rome about the same time as I did.
It was really lovely to hear some Singaporean accents.
We talked almost everything under the sun like, how we've been adapting so far, random daily misadventures, as well as talking about our lives back in Singapore.
I really felt at ease. It was really fantastic to finally be able to communicate normally (as opposed to being stunned trying to talk in Italian)
We met again recently in Garbatella in an Egyptian Restaurant. And it was such a delightful evening.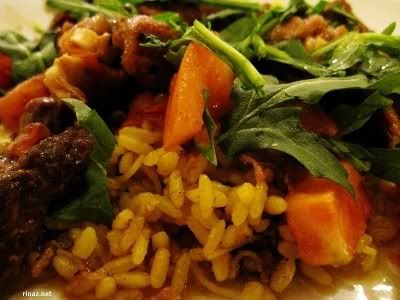 A tad oily, but its the first meat that I've had in ages!
Sure, we might not be such a large crowd, but it was more meaningful and intimate to me, having heart to heart discussions and having a laugh together. Probably a good step to ease in, in a country so far away from home.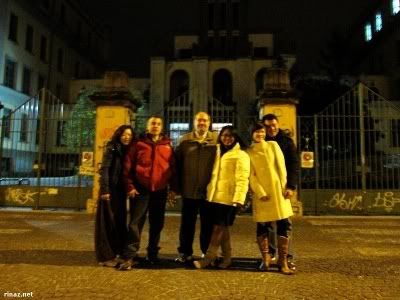 My Diablo map isn't complete, but hey, its still a good start
Links :
P.S : Dont you think that these spoons that Lynn made is absolutely pretty?
Sidenote : Jerrick is coming over to Rome tomorrow! YAY! Cart and I will be playing host!