Stuff in Italy isn't exactly cheap.
This was what I saw in a window some while ago. 146 euro? Thats almost 300 singapore dollars.
And this is what a Big Mac costs in Italy.
Thats about $12 SGD. Yikes!
Now that I'm unemployed a domestic goddess at the moment, I dont really have the liberty of spending money like I did before. Its beneficial to be a little more frugal.
And one of the best way to save money is to buy and cook our own food.
Over in Italy, there is a wet market where you can get your fresh produce from. My mum in law took me to one near her home during my first few weeks here. Just like in Singapore, there is a bustling of activities here from the customers to the sellers.
You could buy all sort of things at the wet market – vegetables, meat, cheese, bread, even flowers, shoes and carpets! I was very excited to see such vibrancy here.
Cart and I went the wet market at Piazza San Giovanni di Dio a while ago. I loved seeing all the colours there. I just wished that I wasnt so self concious to take more pictures of the sellers.
Regardless, in the end, we could get two whole bagfuls of vegetables for about 10 euro. And with that, it completely stuffed the refrigerator and lasted us for a good two weeks.
And oh boy, have I been having fun!
Prior to this, I haven't really been too interested in cooking since I've been happy to eat anything that my mum cooked. But now that I've been given the liberty to a kitchen for my own, I've actually been enjoying preparing food.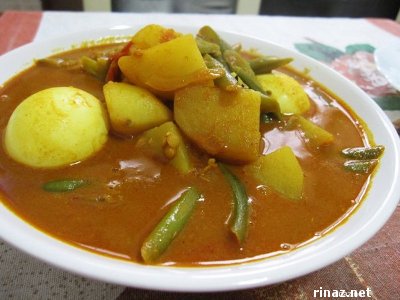 This is Vegetable Curry. I made this! I was worried that Cart wouldn't like it as I've never made curry before. But in the end, he enjoyed it so much that he took seconds. I was surprised!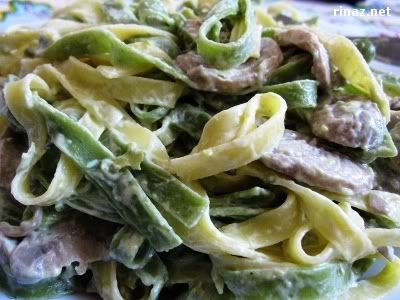 Geri loves Cream Pasta. Now I can make it for her when she comes to Rome 🙂
Nowadays I feel a little more confident of my cooking skills which is interesting as I wasn't that inclined to be in the kitchen. Whoever knew that the girl who didn't like to cook is actually cooking 😛
Moreover, I realise that cooking is actually very sexeh. Thanks to my new boyfriend, Gordon Ramsey.
But I suppose good things comes with its own problems.
I'm 64kg now. Ah crap.
Sidenote : Just for fun, take a peek at my old video on how to make arrabbiata. Looking back, I realise how very unfluent I am in Italian.