Am having problems with my browsers lately.
Nowadays, when I open a site with embedded streaming videos like youtube and dailymotion, it tends to freeze up till I have to kill the program manually and restart it again.
Just yesterday, I had to restart it like 5 times in a span of one hour. It was so aggravating!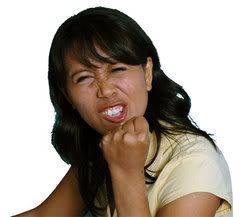 Grrr!!! I am angry!!! I want to beat you up!!!
Xizor was really sweet to help me and suggested that I update my flash and shockwave plugins. But I still have the same issues. Gosh! Perhaps its time for my bi-annual computer reformat.
But in the meanwhile, I'm trying out maxthon, a browser that Daphne prefers and recommends. What she likes the best about it is that it has a drag and drop link function.
So far, I dont have the same issues when I open multiple flash video sites. But I'll wait for a couple of days and see if I still encounter the same hanging issues.
Do you have issues with your browser when you open youtube or firefox before? What did you do to remedy it?