Check out this really hillarious conversation while on our way to the supermarket and listen carefully :
Another another lazy day. After having lunch, we decided to to go grocery shopping at a hypermarket, or what cart describes 'commercial centre'.
There were so much variety of foods there! I had fun just looking at the interesting things there. There were so many kinds of bottles of pasta sauces, it was mind boggling. There were at least 5 refrigerated shelves just for cheese alone. I saw rows of different types of bread but Cartcart told me to be careful as some of the breads may contain strutto.
Cart introduced me to the Chinotto Neri drink which I absolutely adore. It's such a unique taste, bitter and sweet at the same time. I dont know how to describe it, it may look like but tastes nothing like a cola or root beer.
After a while, we found a shelf which was selling Asian food. This was funny to me as I've never seen such peculiar looking food being sold in Singapore before. It was a little dubious to me.
Indonesian satay? Where is the satay?
After the grocery shopping and it was already night time. Cartcart took me to the festa dell'unita for dinner. Cart tells me that the l'Unita is the newspaper of the former communist party which has now merged with the left wing catholics. The festa dell'unita has been a mean to finance the party for dozens of years
I guess if Cartcart didn't tell me about it, I would have thought that it was an ordinary night market. There were loads of things being sold here from clothes to toys. I even saw the picture frame which I bought for Cartcart in chinatown Singapore two years ago!
While we were walking I noticed a stall selling ceramic dolls and I admired the beautiful items there. My eyes gazed at the faerie section and thats when I saw this adorable faerie with green and white stripey socks. It was similar to my avatar while I was in cybertown.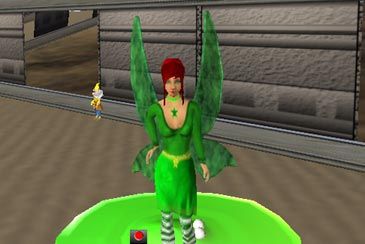 I MUST have her. She's beautiful. And at 16 euros it seemed a good deal.
Unfortunately, she's also broken from the trip back to Singapore
I'd have to get some superglue and hope that she'll be as good as new.
There is a lovely little restaurant called L'Archetto Due in Trastevere, Rome. It's a really fun place to be at and you might be pleasantly surprised at what you see there. On Monday, while we were there, the place was extremely lively with people. It was a lovely night atmosphere among all the charming and rustic buildings.
The food there was simply divine. I love practically every pasta that I had. That night I had pasta alla norma which had tomato sauce, fried cubed eggplants, cubed salted ricotta cheese and grated parmigiano reggiano. It was actually really tasty even though the ingredients sounds like a strange combination.
And speaking of strange combinations, Cartcart had pasta al limone. The first time I heard about this pasta, it was very interesting to me as I've never seen lemon used in pasta before. It's made of milk cream and lemon zest. It had a light and refreshing taste and is really yummy.
By the way, Italians have a special way of eating spaghetti :
For dessert cart had strufolo which is a folded pizza with warm nutella inside while I had Panna Cotta! I'm totally in love with this now. The caramel tops it off nicely. Mmm! How can a simple dessert taste so good?
The restaurant owner is a mischevious man. Sometimes, every now and then, he'd go to unsuspecting patrons and carries a toy-pizza and pretends to drop it on the patrons. It was really funny to see. And on the night, there was a gentleman with a guitar entertaining the patrons. There were so many happy, smiling faces.
After dinner we walked around the area and enjoyed the night air. It's really lovely to walk around Trastevere during the night as the temperature was nice and cool. It was significantly less crowded during the night but still bustling with activity as you can see people lounging around, chatting with friends.
I enjoyed the night walking hand in hand with cartcart, enjoying each other's company. It was such a lovely night.