Warning : This post may contain disturbing graphic images
Though I don't think of myself as a model-worthy person, I do think of myself as a relatively attractive woman.
I have to thank my genes, both my parents being good looking – my mum of Bugis descent while my dad is 1/4 Indian.
When I wake up and look in the mirror, most of the times, I'm quite thankful to see that even without the aid of make-up, a relatively clear face with a hint of pink on the cheeks, shiny and abundant black hair.
It hasn't always been like that though.
Growing up as the eldest child, in a neighbourhood full of male peers, I was a tomboy and I didn't care about how I looked like.
As a toddler
At 8 years old with the world's best brother
At 12 years old, with my cousin Noreen
But as I grew out of my childhood, and puberty kicked in, I started to have acne. At first, it was quite tolerable, the acne was small-ish and it was infrequent. I started to use a fair bit of my pocket money to buy loads of over the counter face wash, to try to control the zits. I tried brands like Neutrogena and Oxy-10.
Some of them worked fine, while others didn't work very well and even made my face crack and burn. In time, I learnt which brands I needed to avoid.
But the worse was to come.
During my pre-university days in JI, the zits flared threefold and I started to have larger and angrier pustules. It was probably from the stress that I was experiencing while in school. It was extremely disconcerting to see the zits.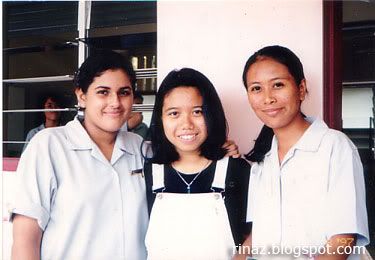 Being a student, and unable to afford a dermatologist, I decided to go to the government subsidised polyclinic. I was prescribed an anti-biotic called tetracycline which I had to take regularly.
After a few months my face was clear and I felt pretty again.
Jurong Institute, Racial Harmony Day, 1998
Several years later, I started working as a part time trainer. I started to have small zits on my face. This time, I decided to use a facial set called 'Proactive Solution'. To a large extent, it was beneficial in controlling my zits, but after using it for a length of time, it began to irritate my sensitive skin. My skin felt stung and raw.
I tried going for facial sessions. I hated the visits though. They have this technique called 'extraction' where they poke your face with a metal device and squeeze the zits out. That was excruciating pain! Many a time, I'd be crying out of the pain.
I couldn't continue with the treatments any more.
I then went back to the government subsidised polyclinic and had a referral to the National Skin Center. I was prescribed with a stronger version antibiotics called doxycycline. After a few months, my skin was clear again and stayed clear till late 2004 and to which I think, started one of the lowest point of my life.
Early 2004
August 2004
December 2004
I used to have a job where the managers mishandled finances, and they decided to suddenly cut my pay in half, and didn't pay regularly. With the stress of having to make payments for the bills and my upcoming course, my face flared up again. I had to watch my money very carefully and not make extravagant purchases.
I tried to use the internet for advice and took the tips from a forum. It claims that through the correct consumption of food, acne could be controlled.
I gave it a try. I didn't consume complex sugars and oil and avoided milk. Once a week I did the salt water flush which was supposed to be beneficial for clearing my kidneys to prevent kidney stones that affects the condition of the skin.
I shudder when I see this picture of me in January 2005
It might have worked for a lot of people, but it didn't worked for me. And my skin continued to be bad till I decided that I've had enough and went to see a general practitioner about my face. He prescribed doxycycline. Additionally, he told me that I had to continue with my topical skincare antibiotics even after the internal antibiotics because a woman's hormones more or less balances out when they turn 30.
Prescription only topical antibiotics
It took longer for my skin to become clear. It has been about two months now that I've stopped taking the antibiotics. I still have zits every now and then. But its certainly not as bad as last year. I am starting to feel more confidence about myself now.
I really hope that I don't get my flare-ups again. No one should go through all that emotional trauma. Even if people say that physical appearances doesn't matter, it still hurtful when these same people gives out gestures or even worse, comments.
My face is relatively clear at the moment. But lets see how it turns out in time.
By the way, I am not proud of my zits picture but its been part of my growing up. Its part of life, that builds me.