Spent a wonderfully relaxing day watching Lost.
After trying to download the entire series with Bittorent and Limewire without success, I had to practically pull Clement's (the school technical assistant and my newly appointed best friend) arm and he gave he the entire series in 2 DVD's! Sans the last two episodes since it didn't fit in the DVD, and I downloaded those with no problem.
Super fantastic show. I enjoyed it immensely. It's a show about a group of survivors who survived a plane crash on a strange and mysterious island. There were several flash backs of what their lives were before the crash and the discoveries of the island's secrets. There were some creepy bits like the mysterious black mist that goes around.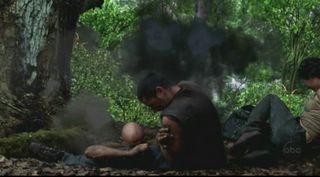 Just what are those debris? Creepy
Almost as creepy as the scene with 3 men and a baby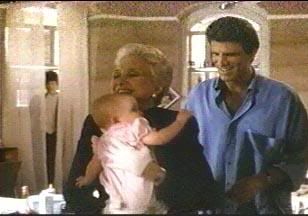 But every one knows that the little boy by the window, who is supposed to be the victim of a murder, is a hoax.
21st July is racial harmony day, in remembrance to the racial riots that happened in Singapore in 1964, when many people died from that most unfortunate incident.
Schools here would usually have an event for this day, some schools would put up a show or a festival. I saw that West Spring had a large joint festival together with 2 other schools. It sure looked like fun.
Racial harmony day sounds dandy, but in my personal opinion, it shouldnt just be a one day event where people would wear their traditional costumes. The main point that the different races be understanding and considerate to each other.
Not to say that there isn't any cultural understanding here, the situation here has improved considerably since the times when Maria Hertogh who was taken away from her Malay Muslim adopted mother back home to the Netherlands.
Anyhow, my point is, Racial Harmony should be practised daily and not just be a carnival that everyone forgets the next day. Just like Valentines day which is a celebration of love, should be practised everyday instead of just once a day. The fact that people *need* a reason to celebrate their appreciation for their partner is a little farce to me. But thats my own opinion
(steps off her soap box)
Was a busy day for me, the entire day was done taking the picture of the teachers, the entire department. I got to borrow the tripod stand from the AVA room (I found it quite fun to use, a tad heavy but it was still pretty ok)
And then I suddenly find myself being the 'official' photographer for the school. Teachers would be asking me to take photographs of their activities like the science show, and the national day (I can't make it for that one though) and the staff department photograph. I accepted them all gladly. Loved taking photographs. It'll give me more practise with my awesome camera which I totally adore. I'd like to get new lens when I can get my hands on one. Maybe a tamron Af18-200mm.
I was just looking over at the different cd's that I borrowed from the library. I borrowed this cd, 'Learn Malay' by eurotalk interactive with the intention of seeing if it would be good for Cart to use since I have no patience to teach him myself.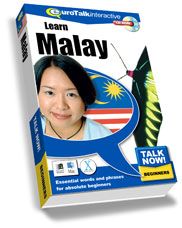 Unfortunately, the programme had a lot of glaring mistakes in them, and me, being a Malay found it much too disconcerting.
Bolehkah saya pakai telefon awak?
In Malay, pakai means wear (clothes) so the meaning of 'May I wear your telephone' was shocking. The correct sentence to use is:
Bolehkah saya guna telefon awak? Or Bolehkah saya mengguna telefon anda?
I swear, I'm not nitpicking. But I cannot recommend this cd-rom because of the errors which I believe would be minimized by having it tested and checked by a native speaker.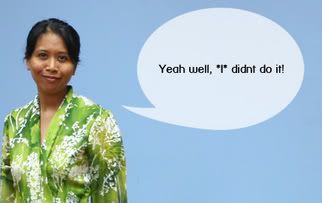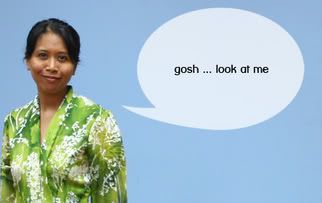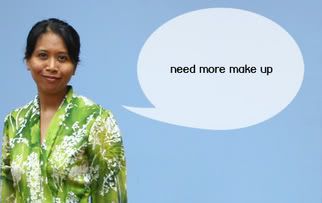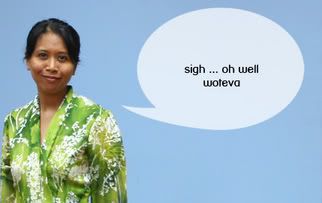 Very stressful, you know.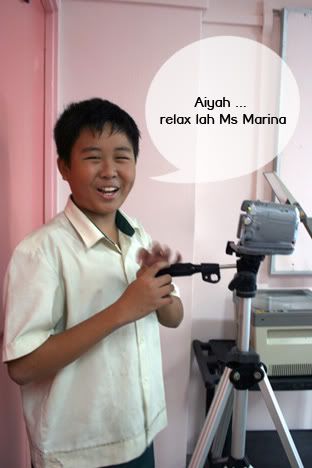 Ok fine. Bye.
2 more weeks to go 🙂