I've never thought of myself as a very lucky person in circumstances, but I really had to thank my lucky stars. Someone up there must really love me.
I got ready to go to the Buskers Opera and took the train to the Kallang Mrt Station. Called up Rosdee who was already on his way. I can go to the Kallang theater myself, I thought confidently as I've been there before, so it should be a peach to get there.
I walked to the bus terminal and proceeded to take a short cut at the People's Association building. I walked and walked and finally came to a white metal fence. Eh? When did this place get fenced up? I tried to find the exit but after some time, I gave up. I asked some people there, how do I get out of this place? Just leave through the opening there, its right behind the building.
I walked briskly there and still no exit. I was stuck in the area!
I cursed and sweared under my breath at the boys who told me that the exit was just behind the building. Luckily, a taxi came by and I quickly flagged it. Only 5 minutes to go before the show starts at 8pm.
I ran to the entrance of the theatre and then I found myself tripping and falling! My foot managed to step in a drain! And boy did it hurt that I was stunned for a few seconds.
A concerned passerby asked me if I was alright. I'm fine, really. You're lucky you didnt break your teeth or something. I guess he was right. It still hurt though, my knees hurt, so did my elbows and my shoulder. I had to limp all the way to the entrance. But I was in time! The doors were just about to close when I was there. Amazing!
The pain still smarted all the way through the show. But oh well, anyways.
The Buskers Opera, directed by Robert Lapage was an interesting show, with the storyline basically going about the life of a man, Macqueath, who was in a band, who seduced many girls along the way.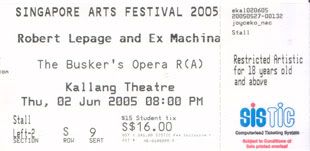 I liked the music there, which included many different genres such as blues, jazz, rock, rap, even folk. It was quite enjoyable. It has been a while since I watched the theatre since my secondary school days. It was so much different compared to going to the cinemas as it's live and you can actually feel every emotion from the actors live as compared to cinemas.
Anyways, I'll end here for the moment, maybe I'll update this post in the morning, but right now, I've some abbrations to nurse. Boo hoo hoo