I am a shoe murderer.
This week alone I have killed two shoes accidentally. Its either that my shoes are too fragile or that I am too rough. Or maybe I'm just both.
The problem lies in the fact that I love strappy shoes.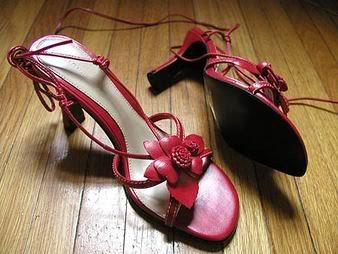 Love them love them love them. However, I walk alot and practically everywhere. Thus making it worn out as fast as 2 months.
I broke one of my favourite work shoes on monday when the heel broke off. What a pity, it was pretty, comfortable and matched with alot of outfits.
Just today, I was walking to my way to work in my beige strappy heels and walking up the staircase and suddenly the strap just snapped! I wasnt even running or walking roughly and it snapped … making the shoe useless for walking in.
Thus I walked barefooted all the way. Lo and behold, the first thing I saw was a student.
Random student : Good Afternoon Ms Marina
Me : Hello (desperately trying to cover my feet)
Random student : What are you doing Ms Marina?
Me : Uh nothing. I'm just uh … Enjoying the scenery here. Its quite beautiful
Random student : Well I'm going home, take care Ms Marina. There's a shop selling slippers over there by the way
Me : (turns red) Okay thanks bye.
And I walked in the squishy muddy grass, the rough concrete floor, crossed the asphalt road warmed in the noonday sun and the tiles covered with many many footprints of all the people from all walks of lives …
I hurriedly grabbed a pair of flip flops and slipped a five dollar note to the lady selling and went on my way to school. It wasnt something that I would normally buy, but it all that there was and beggars cant be choosers after all …
I could hear sniggers and laughing students pointing…
I was wearing a baju kurung … with a BRIGHT YELLOW flip flops.
It was so embarassing … The baju kurung is a traditional formal malay outfit that I'd usually don on fridays being a holy day. Wearing a flip flop would equivalate it to wearing tuxedoes with flip flops. It didnt match at all!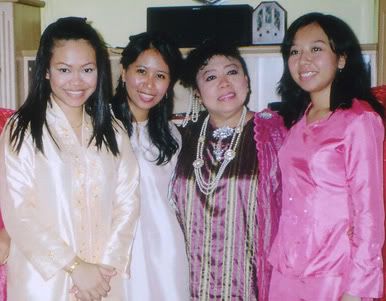 Cousins and me (second from left) in baju kurung during hari raya
The first thing I saw when I stepped in the office was Raj, a fellow physical ed teacher who dragged me to the pantry as one of our colleagues had a promotion and we were treated to a North Indian lunch buffet.
It was full of teachers.
I have never felt so flabbergasted ever. It was as if there a spotlight on my feet and 40 different pair of eyes were looking at my feet.
Oh dear.
I'm always getting into these types of predicament. Singapore's very own Bridget Jones. Fortunately, for me, it was a non teaching day and lasted me till about 5pm or so, and I managed to zoom home as soon as I was done with the technology club.
Very surreal day indeed. Oh well, worse things can happen.