Always Jurong girl at heart. The beautiful illumination from the HDB blocks reflected on Jurong Lakeside.
I had to rest the entire afternoon as I was completely exhausted after Thursday's night drama with the company, Friday's afternoon fiasco then night class and spending the day at Juli's final make up practical and then spending today's afternoon at the esplanade photo-shoot. I could hardly keep my eyes open while talking to Cart.
Anyway Saturday, was Juli's final make up practical. It was so exciting for me, I remember accompanying Juli to register at Cosmoprof and I remember her telling me about how she had to rush from work in a cab every Tuesday and Thursday for her course and now it was already her final practical. How quickly the months go by. I'm sure that she'll feel a change starting next week with no classes.
I dropped by Paradiz Center at Dhoby Ghaut at about 11 am and I already saw Juli working on a model. She looked busy and focused at the task at hand.
Juli introduced me to her, Siti was her name. They met while they were in a Thailand trip. Siti looked at me and said that I looked very familiar. Were you from Jurong Mendaki when you were primary six? She asked me. I stared at her and wondered how she knew. It's me! We were classmates then. And we chatted about how we were the only girls in a class full of boys, our tutor, Ms Fauziah who we loved so much. She said that I was very tall and thin then. I don't know where I kept the group picture of us though but I only found this.
That's Siti on the extreme right, me. Was I really *that* skinny?
After a couple of minutes, Juli was done! And here was how Siti looked like afterwards.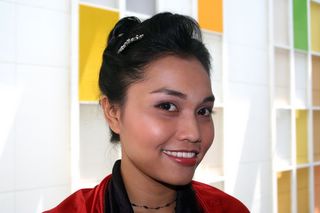 Isn't she pretty? I love the day make-up done on her. One thing about Malay bridal make up which I wasn't fond of is how thickly slapped on it was, making the bride looking unnatural. This looked lovely to me.
Then it was Hema's turn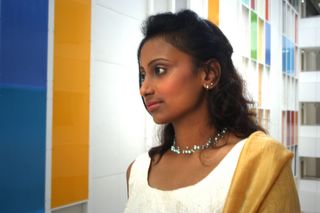 Beautiful, Beautiful! I love it.
There were a lot of activity in the Cosmoprof room with a lot of other graduates doing their make up too. When the models were done being made up, there were supposed to queue up for the professional studio photographer for the student's portfolio.
There were also things that made me chuckle: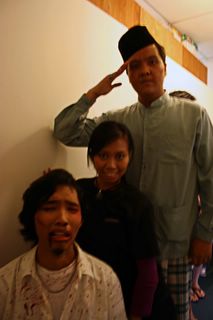 This was the make-up artist for the creative make-up. One of her models looked like he was violently punched and the other aged. It was just too funny to see them role playing as if they were father and son. The father being a violent man and the poor abused son.
This lady here is a runaway bride. See her running shoes and jeans. All ready to run away from the altar!
And me.
We ended at about 6 pm or so. It was tiring day for me, I am sure that Juli felt more exhausted than I was. But I was really proud of her and I know that we would do well.
Sunday
I kind of overslept and was about half an hour late to the PhotoI field trip. I tried out the Lenses that was sponsored by Tamron and I love it! Pity that I could only use it for an hour. I couldn't try out every one of the different lenses due to the large tunrout.
I am very impressed by the Af18-200mm zoom lens. It had a large range and shoots really fast! Here are a few unedited shots (mainly because I'd like to complete this blog asap and rest)

cant you let me eat in peace, marina?

The magnificent Durian

ROCK ON!
Goodness … 2.30 am already! I'm going to bed already. Goodnight!
Ahem just one more picture since I'm egocentric 😛