Not concentrating on work. Not doing anything educational. Not having to do anything useful? I love it. Slacking off is something that I do with pizazz. If there were a certification of doing nothing, I think I'd pass with flying colours. Dr Marina N. (phd in psyco-logy)
Anyhow I'm just resting here, after 2 days of going out with friends. Friday night of pubbing at New Asia to celebrate Hema's birthday. I really disliked the pubbing scene. A dark room full of bodies and cigarette smokes and you having to wade through it. I can't dance, I don't drink, I don't smoke. So what's the point of going?
Juli and I eventually went there anyway even though we were hesitant about it since we were both tired from work, even more so when Julie was having a sore throat, the same symptoms that I had about 2 weeks ago. But we went there in the end. All to make Hema feel happy on her special day. It was heart-warming to see the smile on her face when we turned up. And she looked gorgeous in her black dress and that styled hair. Happy 25th darling Hema! And many more to come 🙂
Come Saturday afternoon, Juli asked me to accompany her to register at Cosmoprof, the leading beauty and make-up school in the region. I was really excited for her since this is one of the first steps for our own business. I'd have to source out for photography lessons too and save up for a good digital SLR camera and umbrella flash and tripod.
The place looked nice, and we talked to the course consultant and went around the area for a bit. We then decided to walk from Dhoby Ghaut to Somerset for lunch. Unfortunately along the way, there were many food kiosks littering along the way and we stopped many times to buy snacks to eat along while as we walked.
By the time we reached Orchard road, we weren't hungry any more and topped it off with ice cream at bravissimo. Mmmm … The hazelnut ice cream was pure bliss …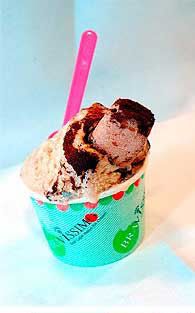 We ordered tickets for Bad Education and had about an hour to kill so we decided to have dinner at BigO which was a misnomer because the food wasn't so praiseworthy. We decided to become food critics

Grilled Salmon with summer vegetables in sauce
Me: So, on a scale of 1 – 10. How would you rate this fish dish?
Juli : The gravy isn't thick enough. It doesn't seem to be able to complement with the fish. It is weak and tasteless and bland. I give it a 6 or 7
Triple Chocolate mudpie with brownie crumble
Me : I'm sure it isn't easy to fail chocolate. *takes a bite*
Me : Oh.
Juli : Oh?
Me : Yeah, just oh. Not a OHHHH!! Screaming of joy type of Oh. But just oh.
Juli takes a bite
Juli : This isn't a big O! It isnt even a small O! I'm not satisfied!
It would be funny having us grace the television screen if we really *were* food critics … 😛
We rushed out of the restaurant as soon as we could to catch the movie which was already starting.
Bad education was a disturbing movie, to me. Juli thought that it was really sick. But I thought that it was a well made movie with a good storyline and an interesting plot. But it could be a bit much for some people.
I'll try to write again later. I think I'll take a nap or something, I'm still stoned out.