After days of postponing, I finally had the chance to go out with geri again today. We were supposed to go on tuesday, however there was a staff meeting for the new registration of students in the school and the actual registration the next day. It was nice to see that most of the staff looked fresh and relaxed as compared to some months back while they were teaching, and the end of year examinations. Waheeda, one of my colleagues (whom used to be a school mate while back in Jurong Institute) told me that she went to KL. Some said that they went to Hong Kong, another said that they went to Europe. I was wondering if I should have taken the trip to Thailand after all.
Anyway, I met up with Geri at Bugis and we proceeded to go to the coffee shop to meet up with Ashley. Now Ashley is a person whom I havent met for many years. I got to know her back when I was in MIRC.In its heydays, it was a popular program that we used. Sometimes the chatters wouuld meet up for outings : coffee, dinner, a game of pool, movies … I enjoyed myself during these meetups, I was fortunate to meet the bubbly, funny people. One of them was Ashley. She was really rambuctious, wild and crazy gone nuts. Considering that we only met for two or three times in the year 2000. I was surprised and a little embarassed that she could still recognize me while I couldnt.
Geri : Hey Marina, thats Ashley there!
Me : Where? Where?
Geri : There!
Me : (peers around)
A woman stands in front of us : Here
I felt so sheepish! Apart from the reason that I havent seen her for a while, why I couldnt recognize her was also because of the fact that she looked more feminine and much toned down as compared to the first time that I saw her. She used to have hair full of many many braids topped with a wrap around bandanna and clubbers clothes. Now what I see in front of me was a lady with long flowy hair, chic clothes, toting a handbag on her arms, looking fab with her sunglass.
We had lunch together and talked about irc life, ashley's adopted brother, amiran's cafe new location and practically everything that we could think of. We persuaded her to join us to East Coast. She declined saying that she'd rather go shop for christmas presents. Another time perhaps.
After lunch, we went to Eunos MRT station and took the bus 13 to reach the beach. It was an amazing atmosphere. For it being christmas eve, the beach was bustling with activity. There were roller bladers circling everywhere, bicycle riders zooming past by and many many tents around with people around the area. It felt so hustle and bustle and ALIVE!
We rented a pair of bicycles and went off to explore the beach. It was really lovely to chill around, enjoying the sea breeze and just take in the view. There were people fishing, tanning, flying kites, jogging, cycling …and just having fun in general.
Geri was snapping some pictures and I really liked this one she snapped of me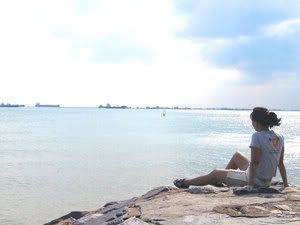 and this one 😛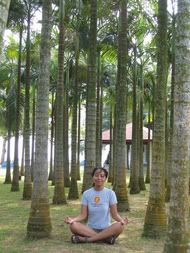 I snapped a couple of pictures at the bedok jetty too. Dang my camera, but this is one of the better shots I had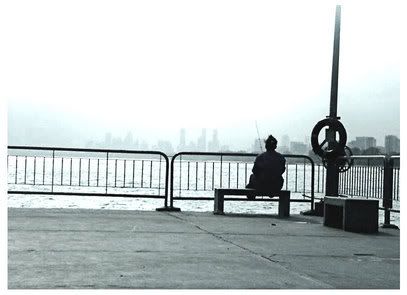 In the evening, we decided to go kayaking. Now that was so much fun! We forgot that during evening tides the waves of the sea will be stronger and push to the beach. Thus it was harder to paddle off from the beach on the kayak. But once we were in the
sea, everything else was easy. I decided to chill on the kayak and enjoy the water waves, bobbing up and down in the sea breeze and look at the surroundings. What a life. I wondered why I didnt do this more often.
When nightfall, we decided to ride to the food center to have our dinner. BBQ Stingray! The place was packed with people and there was practically nowhere to sit. So I gingerly asked a lone man if we could join him and luckily for us, he said yes.
Eating is such a pain sometimes. Geri wanted to eat bbq chicken but I cant eat the type she wanted since its not halal. And the stingray from the chinese places might not be safe to eat either since they sometimes cook pork or add meat from unknown
sources. So its kind of troublesome – but geri is really sweet when she insisted that we eat the same thing together even though I knew she really really wanted the bbq chicken.
I told geri that I had a nice time today. It was really enjoyable. So different from the typical outing a Singaporean would have. I mean, movies and dinner is great and fine but something different, like cycling and kayaking is so much fun, I wondered why we didnt do it more. Maybe Singaporeans arent that creative in having a good time. Even the government thinks so with all the grants being funded for our "creativity" and the "arts" I still think that we might still be sheep, but in time, I'm sure we will be the sheperd 🙂
After dinner, we cycled again and got ready for our dessert at cafe gelare which was next to the fair grounds. The night air is so perfect, there were so much life around. From where I was sitting while having my ice cream there were dog trainers
with many dogs running around him, shop kiosks around and little food areas. I look up and it was a lovely full moon too. What a romantic setup .. heh 😛
We parted for home at about midnight and I reached home at about 1am after taking the last bus and had to take a cab for the last part of the journey. (Aweful and rediculous midnight surcharges!)
But all in all .. What a lovely day 🙂